Landing Page Optimization: Keeping Marketing Fun at the Brendans'
June 23, 2014
Yes, our SaaS needs more conversions
Ever since I hopped on the Snipcart train, I've had ultimately one goal in mind: boost our conversion rate (and understand more developer jokes while I'm at it). I usually approach this goal using two broad tactics: get more traffic, and optimize our website user experience. Now I know there are tons of ways to take on those two challenges. Recently, I've been spending time reading articles about landing pages and conversion optimization, and checking out a few related web products. So when a colleague sent me a link to the Keep Marketing Fun - Landing Page Optimization event, I bought my tickets without even thinking about it. It was a no-brainer really: cool MTL agency hosting relevant event for our startup with experienced folks dropping some knowledge? Count me in.
I won't lie to you: the homepage we have right now is awesome. Design and animation-wise, our team really did a kickass job (we're still seeing traffic coming in from the Awwwards SOTD we won last summer). But the homepage is practically a long one-pager site in itself. SEO and conversion-wise, this website format isn't built to sustain a strategic growth. We've been tweaking a few things here and there, like adding some social proof sections and neat CTAs in our FAQ and Documentation, but our main "landing page", the home, hasn't changed much since our launch. Sure, we've raised our conversion by a bit more than 1%, but it's far from being enough. I've also been flirting with the idea of designing short, campaign specific landing pages I could A/B test precisely. So, basically, I had every good reason to travel the 250 kilometers separating my beloved Québec from "The Big City" for this event.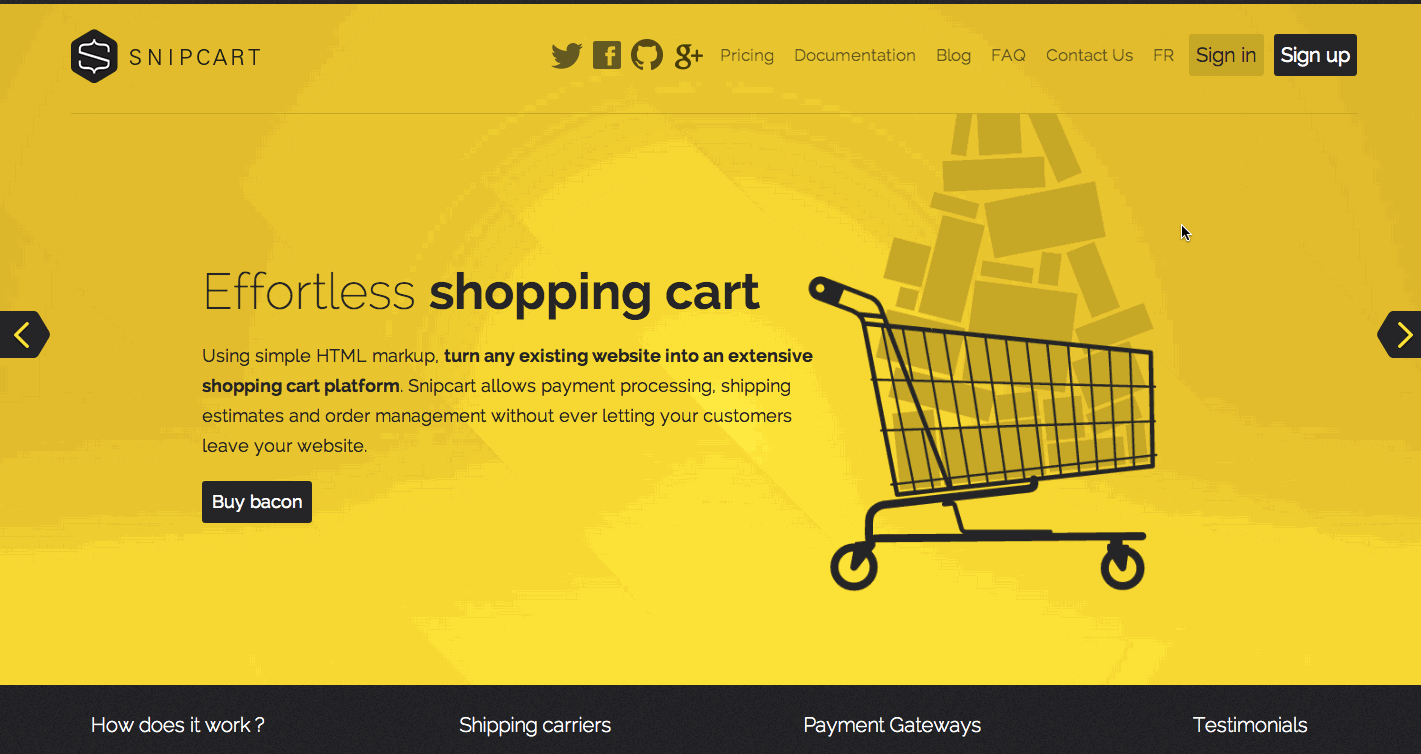 It's a looong way down.
Conversations and conversions
Brendan & Brendan were kind enough to host this awesome event in their new Montréal work space. BierBrier, a local beer maker, provided attendees with a full keg of their own brew for the occasion, while Apponative, an application development startup, took care of the food.
1st speaker: Liesl Barrell - Once Upon a Landing Page
Liesl, a business developer from Unbounce, got the ball rolling with a presentation on landing pages filled with metaphors and Disney characters.
EDIT: We now have a full-blown post on creating transactional landing pages with Snipcart + Unbounce. You might want to check it out! :)
It was fun to hear from someone who actually deals with this crucial step of the conversion funnel on a daily basis. While the importance of message match between an ad and its associated landing page wasn't news, it's always good to be reminded of its value. I'll be going over our campaigns copywriting in the upcoming days to make sure we're on point when it comes to message match. But what really got me thinking was the notion of attention ratio and the paradox of choice. There are a lot of elements on our own homepage (which is also our landing page for ad campaigns at the moment) that may lead our visitors away from conversion. Sitting through her presentation, I heard most of my doubts regarding our landing page being verbalized and confirmed.
Cool conversion fact: Green doesn't convert more than Red. And Red doesn't necessarily convert more than Green. It's not about color, it's about contrast.
I had the chance to catch up with Liesl after the presentations and tell her about our challenges as a dev-oriented SaaS. While Unbounce is a very interesting solution if you're serious about handling and testing quickly a couple of landing pages at a time, it's not what Snipcart needs right now. But we'll be sure to keep the tool in mind when we take our online campaigns to the next level.
Sidenote: I couldn't help but scream a silent YES! inside when I saw that one of Liesl's practical landing page example was actually Curt's Special Recipe, a Snipcart user.
Martin, co-founder at Bloom Search Marketing spent his stage time pointing out the 6 biggest mistakes people make when starting a PPC advertising campaign. We're currently running three of those campaigns (Facebook, AdRoll and Carbon Ads). Throughout his presentation, I managed to identify a few things we should be working on more seriously when it comes to PPC:
Set up precise, quantifiable goals before launching campaigns

Track results more closely and A/B test different copy and visuals

Diversify ad units and test benefit-specific, short landing pages
Key takeaway: Getting clicks isn't enough.
Martin also suggested a tool I had already heard about a couple of times, but never actually used: Optimizely. Keeping this one in the favorites for when I'll need to A/B test without using too much of our developers' precious time.
By showing us how they handled user tests and research over at UX Recherche, Stephanie reminded us how surprisingly valuable direct feedback can be for an online entity. Their testing game really is on another level: retinal tracking, heat-mapping, points of focus, qualitative interviews… they're collecting all kinds of crucial information straight from end-users. While it's not a service we need as a dev-oriented startup, it was still very interesting to have a peek into this scientific approach to UX.
Key takeaway: Use emotional triggers.
Conversations… ACTIONS and conversions
Again, a huge thanks to Brendan & Brendan for hosting this edition of Keep Marketing Fun. The Landing Page Optimization event really was a motivation boost. We've been around for a while now, and it's time to see how we can present our product more effectively to our users. In the following weeks, we'll be focusing more on our on-site conversion optimization. We'll start by organizing our main benefits above the fold in a new landing page and test variations of it. We'll plan more diversified online campaigns supported by benefit-specific, A/B tested landing pages. We'll play around with a few tools and test, test, test. And hopefully, we'll manage to get more developers and agencies to hop aboard the Snipcart train.
---
Feel free to share your own thoughts or experiences in the comments below!
You can also follow us on Twitter to keep up with our story and our product's development.