Why and When to Use Snipcart as a Shopping Cart?
October 22, 2013
It's not like the e-commerce and shopping cart market isn't crowded enough, right? There are tons of them: WooCommerce, Ecwid, Shopify, Magento... you name it! So why bother offering yet another shopping cart solution you may ask? Good question.
Let us walk you through our thought process and expose the reasons that led us to create our product.
One thing you should know about us before we begin: we are web developers. In our service days, customers, seduced by the online market's potential, often asked us to build e-commerce solutions or shopping carts. The following reasoning is the one we, as web developers, went through each time a customer asked for some e-commerce:
"So guys, what are the available solutions we can choose for current site owners?"
1. Add a simple "pay button"
Most payment gateways offer a "copy/paste script" site owners can add to their website, allowing their visitors to pay online. Whether it's PayPal, Stripe or Paymill, they will all offer a simple way of processing payments. This really is a no-brainer way to collect money. If you're looking to collect donations, it's the easiest and quickest solution you can adopt. If you're selling goods, it is far from a valid solution. The "pay now" button will manage the payments but will not handle any extra information regarding the order, the options, the shipping, the customers, the availability, etc.
Which brings us to option number 2!

2. Install a CMS-specific shopping cart
Chances are there are shopping cart plugins you can install with the CMS you decide to use. But you shouldn't have to cross your fingers and hope for a decent e-commerce plug-in that works with your favorite CMS. And if you already have a live website, you're limited to the available shopping carts for your specific CMS.
If you don't have a website already and are serious about e-commerce, this means you'll need to choose your CMS depending on the shopping cart you'd like to use.
Most e-commerce platforms will focus on the e-commerce features and less on the marketing/design/branding/communication aspect of a website.*
So picking up a CMS for its shopping cart plug-in is like choosing a car for its A/C! Aren't we supposed to be in a "best-of-breed" model? Shouldn't we be able to choose the best CMS available and the best shopping cart solution independently?
Let's say you've found a satisfactory CMS coupled with a satisfactory plugin. You'll still need to buy and install the plug-in on your server, configure the solution, and make sure you've got the prerequisites. You'll need to keep up with the updates and the recent versions of the plug-in and packages. A great solution if you're a consultant looking to bill hours!
3. Use a fully-hosted solution
The third option available is using a hosted online shop.
If you already have a website, subscribing to such an online service can mean two things:
1 - Either ditching your website altogether or creating a separate "shop" section for it on another domain/subdomain.
2 - If you have a product catalog on your website, duplicating that product listing in order to have it displayed within the template of the service.
So if you already have a website and if you have already listed your products, you'll need to double manage your products to make sure both platforms display the same updated information.
As if the prospect of dropping a paid-for working CMS-based website wasn't sinister enough, using a hosted solution also means compromising your CMS options. Hosted solutions will never keep up with the advanced features of a well-established CMS. You're adopting an integrated and proprietary platform that will act as a CMS and an e-commerce solution. So forget about all the available plug-ins and dynamic community you like about your favourite CMS!
In addition to the CMS compromise, using hosted solutions implies that the online shop has to be designed within the possibilities, templates and frames of the service you're choosing. Hosted solutions will typically result in numerous similar online shops that don't stand out and lack differentiation! Hosted solutions can be an easy pick for small online sellers who are starting out without any HTML knowledge. But as soon as more advanced analytics and management features are needed it's back to square zero!
So how is Snipcart different: is it hosted or installed?
As developers, we want to have 100% control over the look and feel of the shopping cart and the product catalog. We want to be able to display and publish the products in a seamless manner that respects the brand and the design of the website. When using Snipcart, you have access to a shopping cart that is pure HTML/CSS, injected directy in your website's source code. You basically turn any links in your HTML into buyable buttons you display on your product pages. Those buttons will make our shopping cart pop. The cart itself can be skinned and customized by any developer: there are no creative limits! And since the checkout process is injected into your website, the customer never leaves your website and goes through a seamless navigating and shopping experience.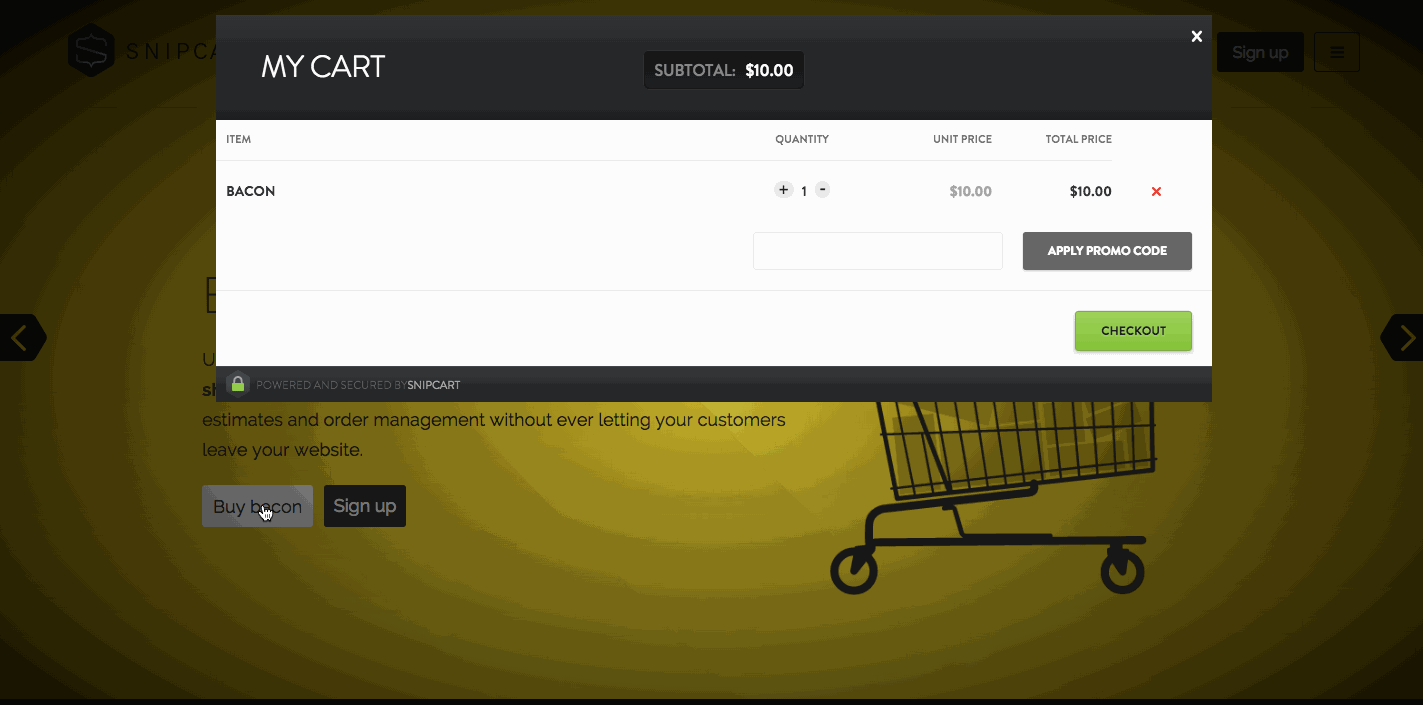 The catalog and products, on the other hand, are managed within your CMS or static site generator, like any page and content type you already use and manage. So adding a product page basically means adding content. Which means Snipcart will work seamlessly both on traditional CMS like WordPress and modern site generators like Jekyll and Wyam.
As for the administration panel, it's hosted on Snipcart. By logging into their dashboard, merchants will be able to configure their account and track their sales, payments and shipping. In other words, we think we've nailed the best of both worlds: the cart is fully customizable and is "installed" – it's a basic JavaScript inclusion – within the CMS, and the invisible administration section that is hosted. Yet again, using our API, you could retrieve Snipcart data information and display it within your CMS. More on that later in another blog post!
So yes, Snipcart does require a minimum of HTML and CSS knowledge, and it's certainly not a service that suits everybody. We've built Snipcart as developers and we know that it'll be more suitable for developers who want to offer simple shopping carts to their customers without compromising the CMS or design of the whole online shop.
---
Edit: Since writing up this post just after we launched in 2013, we've published other articles vulgarizing and promoting our vision for our product. We encourage you to check some of them out:
+ Our Shopping Cart Platform's Features VS Benefits: Full Rundown & Infographic
If you enjoyed this post and found it valuable, please take a second to share it on Twitter. And of course, your thoughts on the state of e-commerce are welcomed in the comments below.
Suggested posts: