Using Zapier to Receive Snipcart Order Notifications in Slack
November 26, 2015
We're at that point of the year where most merchants sure are febrile: the infamous Black Friday will take place tomorrow, rapidly followed by the Holidays. So we thought we'd offer a small, early present to our merchants: a quick how-to post to receive Snipcart order notifications directly in Slack. Using the famous web app automation service Zapier, you will be able to send customized messages to your team on Slack every time a new order is completed on your site. We know for a fact that our merchants sell a lot more during this period of the year. So this integration might just light up your chosen Slack channel like flashing Christmas lights, and hopefully motivate your team. :)
Time to set up the integration: roughly 5-10 minutes.
For this post, I'm assuming you already have a Slack team set up. If you don't, and want to try the popular messaging app for teams, you can easily create a free team here. I'll also provide a short list of useful Slack integrations for online businesses at the end of this post, so I strongly encourage you to at least give it a try!
Step 1: Create your Zapier account
First step will be to make sure you have an active Zapier account. You can do this by signing up on their website for a free account.
Step 2: Follow the invite link to use Snipcart's Zapier app
We have developed a Snipcart app that works with Zapier's awesome service. The app itself is in beta stage; it can be used on an invite-only basis. By following the link below, you'll be able to use the Snipcart Zapier app.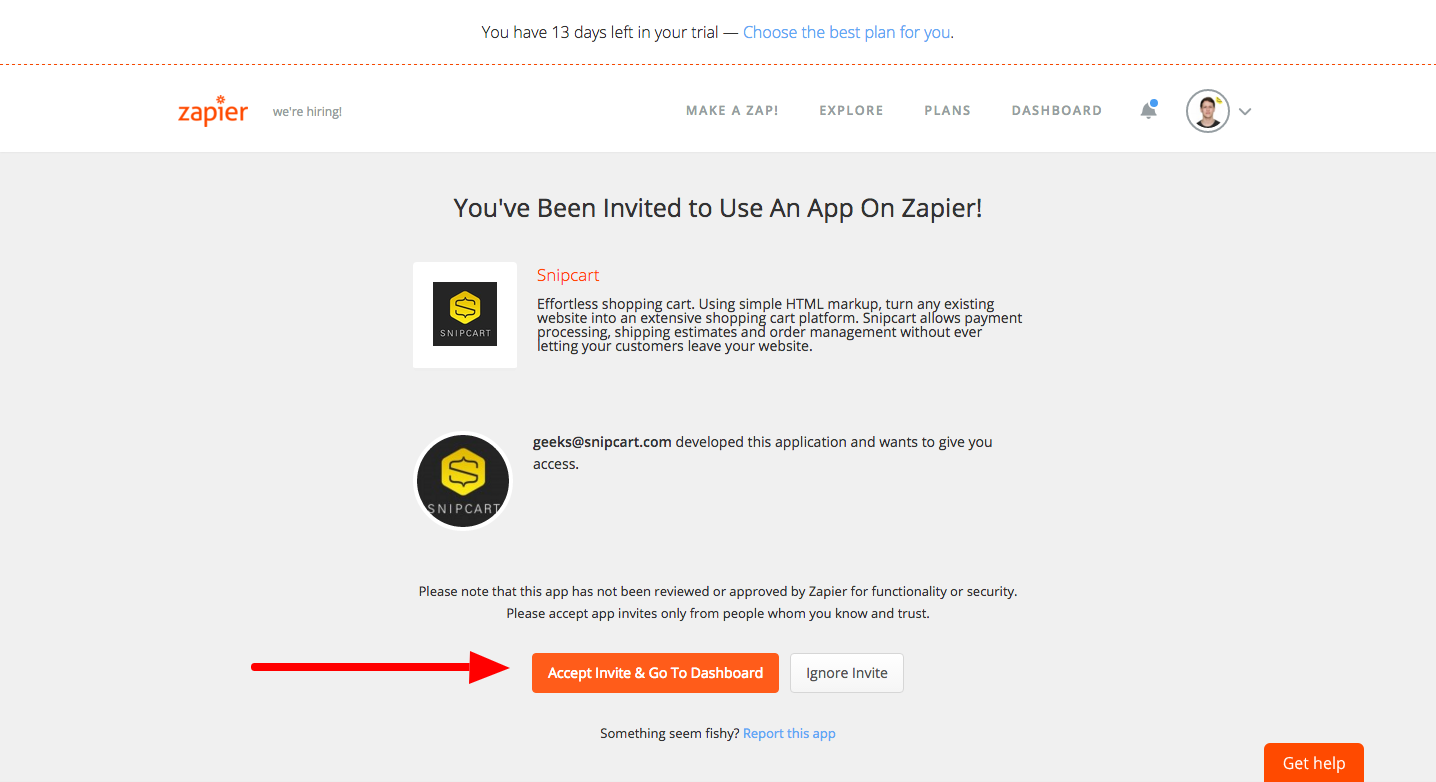 Step 3 Create a new Snipcart-Slack Zap
On your Zapier dashboard, hit the Make a New Zap button: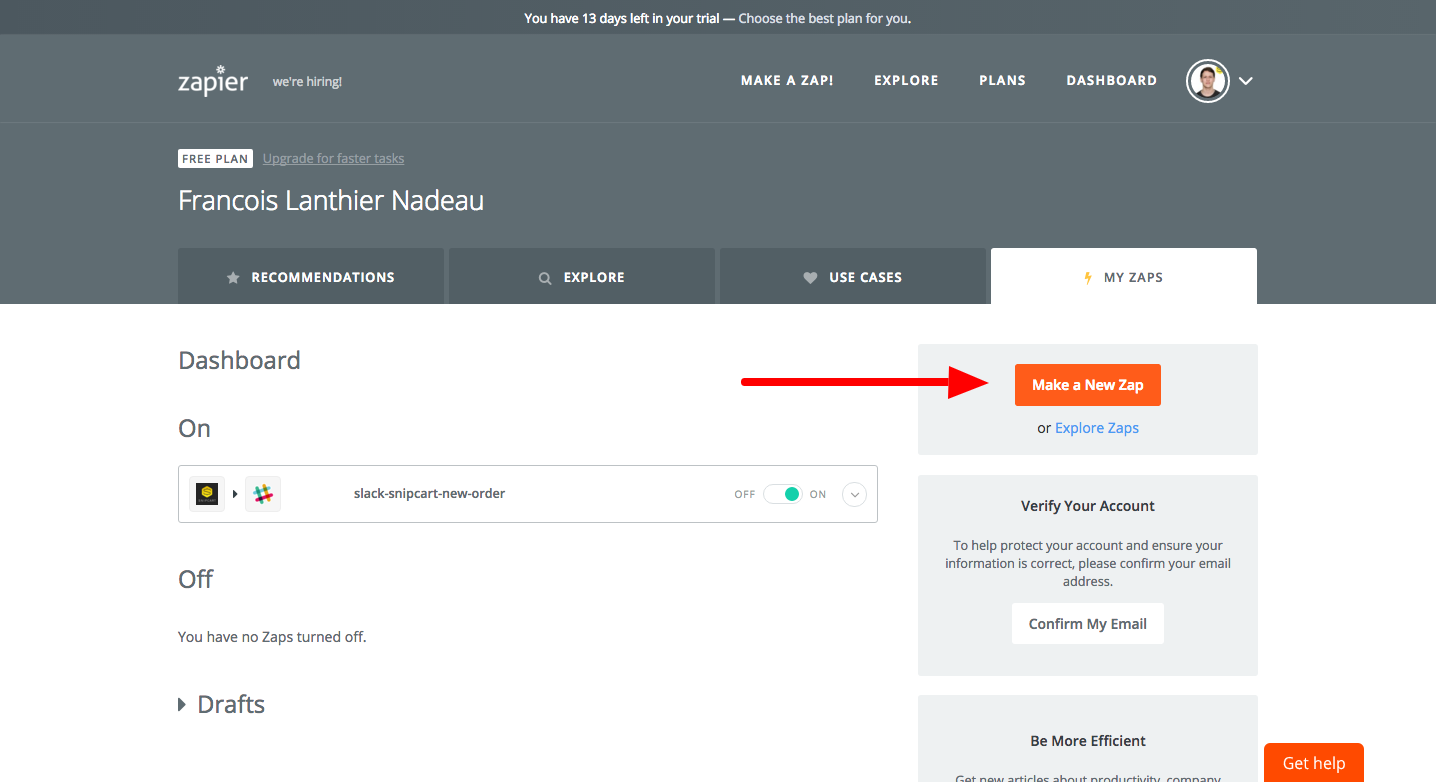 On the Create New Zap screen, select Snipcart on the left, and Slack on the right. Then, select the trigger New order completed under Snipcart, and the action Send Channel Message under Slack. Hit Continue.

Copy the URL provided by Zapier:

Now head over to your Snipcart merchant dashboard. Under Store configurations, select Webhooks. Paste the Zapier URL in the appropriate field, and hit Save.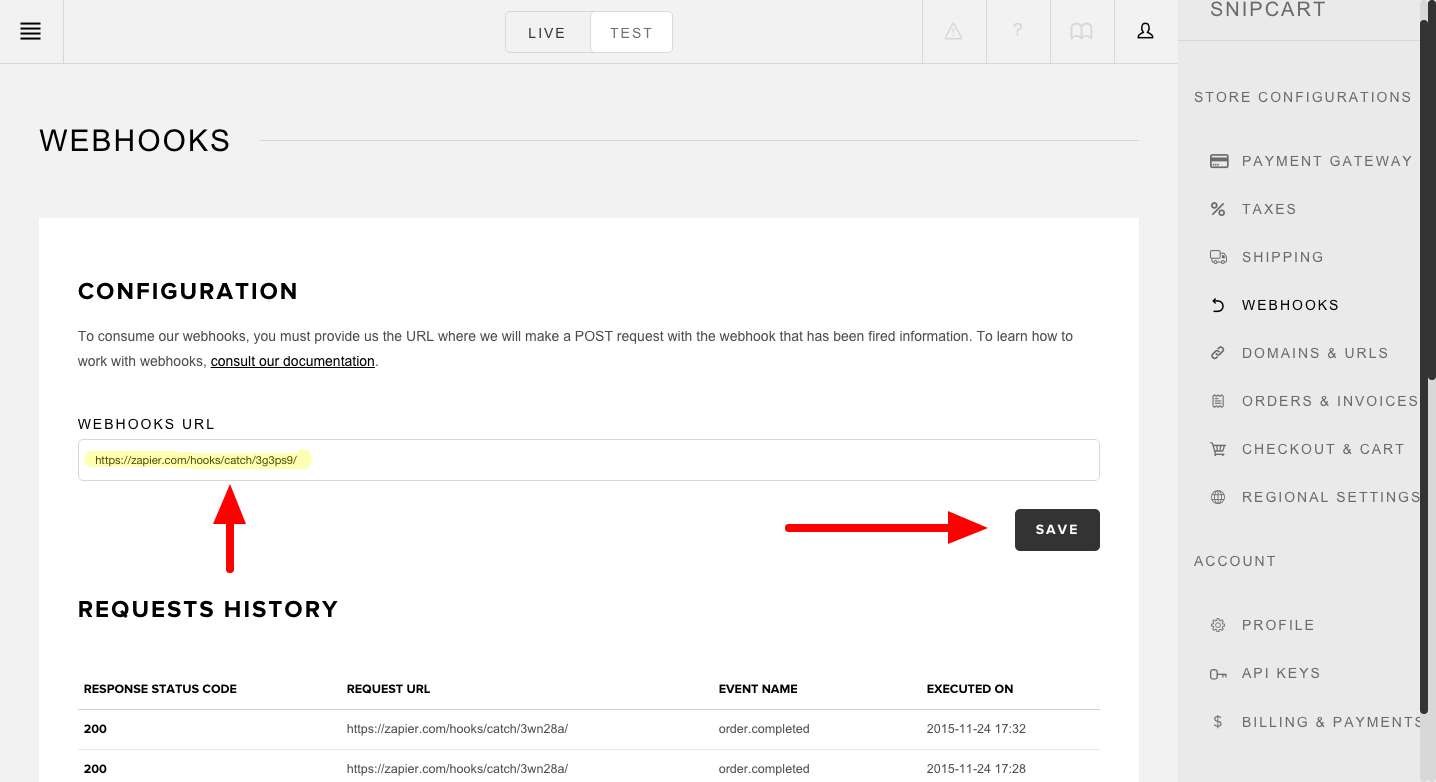 Go back to the Create New Zap screen. The 4th step they offer allows you to filter the orders that will reach your Slack team. For instance, you could choose to be informed only when orders over 100 $ have been processed. For this quick demo, I skipped the filtering and hit Continue.
Now the fun begins.
First, pick the Slack channel where you want the order notification to pop. Then, using our app's available fields, write the message you want the notification to show. For this demo, I chose to display only the customer's name, his country and his order's total amount. After this, you can name the bot sending the notification, set an avatar for it, and add an image/gif to the notification message. You can see my own settings here: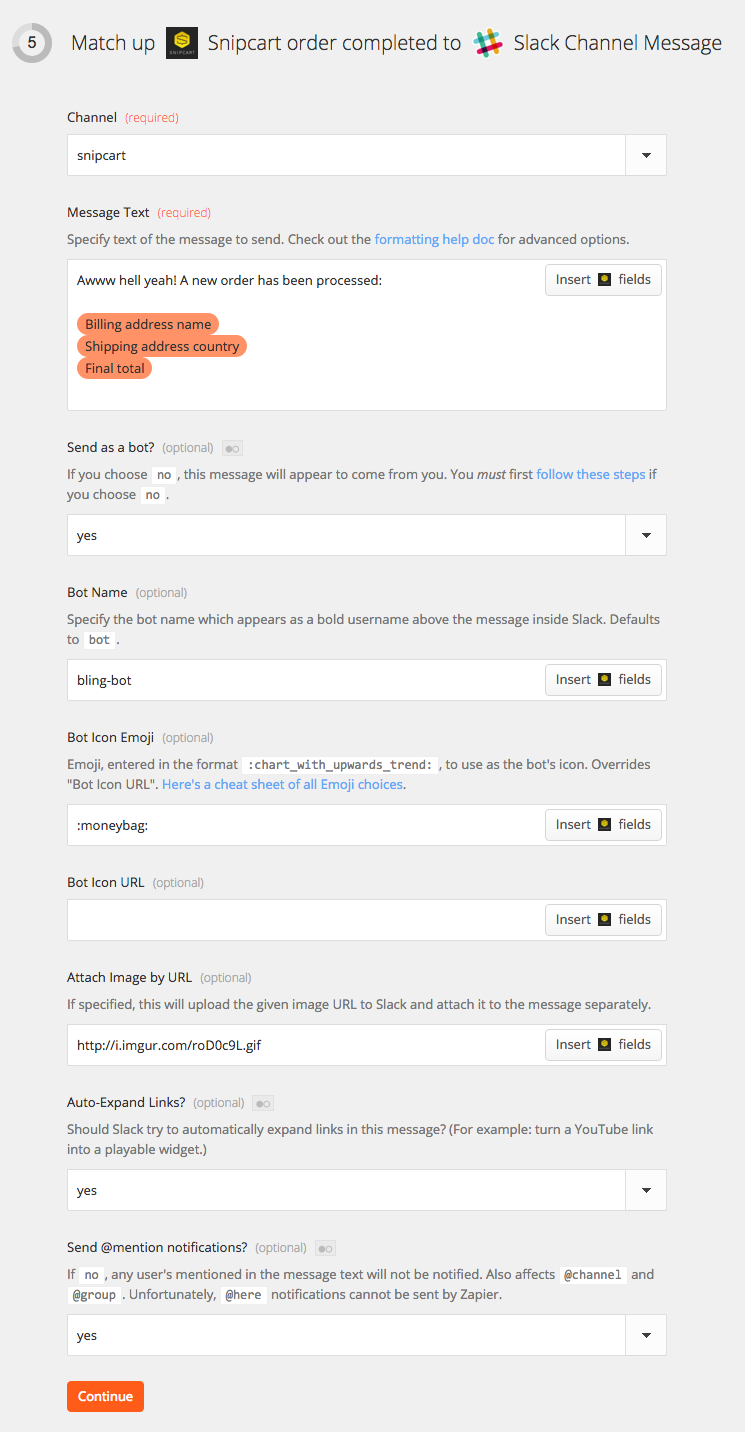 The last step before your Zap actually works is to test it. Once you hit the Test Snipcart trigger button, a window will pop up: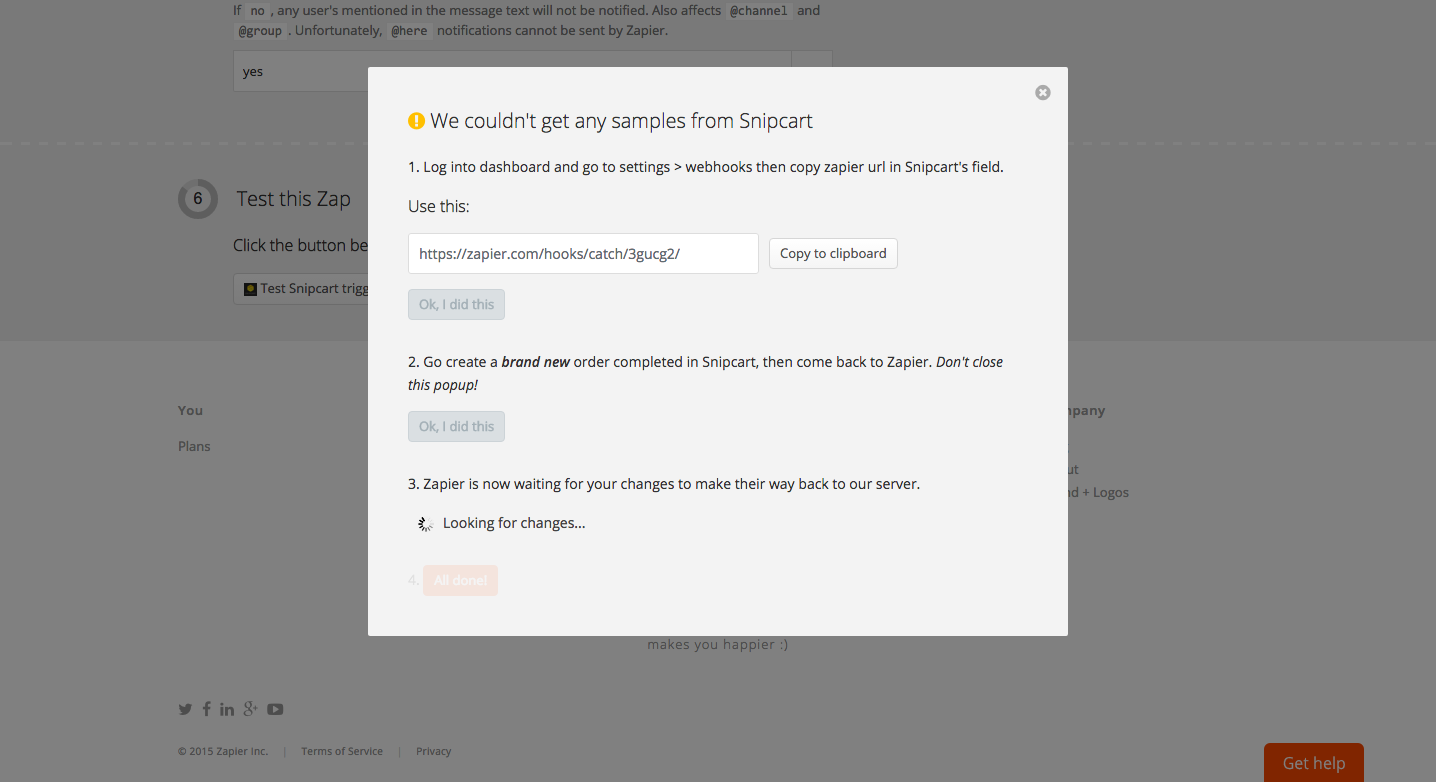 To activate your Zap, you'll have to process a transaction while this window is opened. We suggest you buy something on your store and refund yourself shortly after. We know this isn't ideal, but Zapier needs actual data to be pushed before activating the Zap. If any of our readers has a better idea of how to go about it, we're all ears!
All done?
Now name your Zap and turn it on.
Step 4: Watch the money roll in!
Here's what the working Zap notification looks like in our own Slack channel: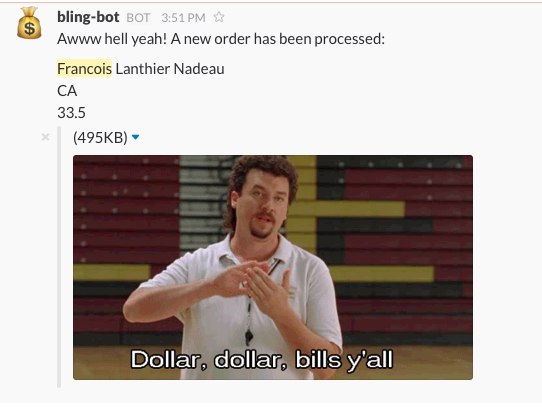 A few words on Slack integrations
While I presented you our own, "custom" Slack integration, I still felt compelled to point out other interesting Slack integrations. For teams and merchants, I believe they can be very valuable when it comes to communication, automation and overall efficiency. A team's chosen messaging app quickly becomes an active, crucial hub, and integrations allow you to literally turn Slack into a command center.
Customer support help desks such as Groove, Zendesk and HelpScout, for instance, all have native integrations available under Slack's integrations menu. This means you can receive and manage support tickets without ever leaving Slack. Emails can also be managed and sorted directly in Slack, thanks to tools like Franke.
Communication can also be enhanced with instant video chat tool Appear.in's native integration, or meetings bot like Howdy and Tatsu.
Monitoring of brand mentions / competition can be handled too with useful tools like slalert!.
For visual customization, check out Slack Themes. And to add a bit of fun in the messaging flow, check out Slacker.
And of course, Zapier has a whole lot of cool Zaps for Slack users.
Finally, if you find this subject as appealing as I do and want to dig deeper, I invite you to check out Ben Brown's writing on Slack, bots and automation on Medium.
---
If you found this post valuable and/or entertaining, please, take a second to share it on Twitter. And if you have any comments or feedback regarding Zapier, Slack, or automation tips in general, just hit the comments. We'd love to know what you think!
Suggested posts: