Adding E-Commerce on Pulse CMS With New Snipcart Plugin
June 09, 2016
Editor's note: this is a guest post by our friend Michael Frankland from Yuzoolapps. He's the developer behind the awesome flat-file Pulse CMS, for which he built a native Snipcart plugin. In this phost, he discusses his experience integrating both products together.
Adding e-commerce to sites has always been a pain in the SaaS. It either required a monthly subscription to something, a slow database-driven WordPress install, or copy and paste PayPal buttons. Neither of which are ideal.
After I discovered Snipcart, I remember my eyes starting to water and I could taste the excitement. It was almost too good to be true. Could I really add a custom e-commerce seamless shopping experience to any site? And quickly? I put it to the test with Pulse CMS.
What is Pulse CMS?
Pulse CMS is a flat-file CMS that is quick to install, quick to setup and clients love to use it. It's designed to be lighter than heavy CMS & platforms like WordPress, Drupal, Magento, PrestaShop.
Pulse has been around since 2009 and was one of the first lightweight CMS systems to market. It runs on PHP and can be tracked through GitHub, deployed to any Apache server and is a popular choice for small to medium size websites. In particular, brochure or portfolio sites and e-commerce stores.
Web designers choose to work with Pulse because there's no need to setup a database, they can port over an HTML theme in about 30 minutes and clients are comfortable editing their content with the editor, so there's less training requires. It all sounds a little bit like Snipcart - so the synergy seemed to be there already.
Building the Snipcart-Pulse plugin
One of the great things about Snipcart, from the developer's perspective, is that it's so easy to get started.
In our case, we focused on the simple JavaScript inclusion, and this meant we could get quick results and had "add to cart" buttons embedded on a demo site in minutes. This would cover probably 80% of Pulse e-commerce users' scenarios.
But there is a considerable amount of users selling digital files such as music or their artwork. We are hoping to keep extending this plugin into the near future and adding more extensive features through the use of Pulse tags and would like to work on an easy way for users to sell digital files with Snipcart. It may be possible to soon upload a file in Pulse via the media folder, add the Snipcart button and using Snipcart's webhooks, Pulse could then generate a unique link that would send your customer to once their purchase is completed. I'm super excited to see this hopefully in the near future!
Other than that, the Snipcart documentation is extensive, with clear examples, and any integration is simple enough to work with.
What do they look like together?
This was built in Pulse CMS with Snipcart in about 5 minutes. Shocking. If I hit the "live" switch in the beautiful Snipcart dashboard, I can be ready to sell anything in seconds. This exercise allows you to create live e-commerce sites or living and breathing mockups (no need for wireframes) for clients in a matter of minutes. That makes your life easier as a designer/developer and clients are happier as they can see an interactive shopping cart come to life.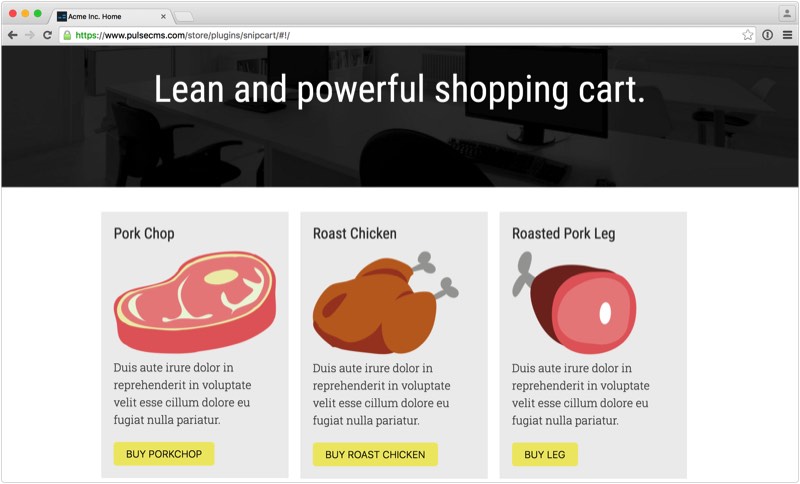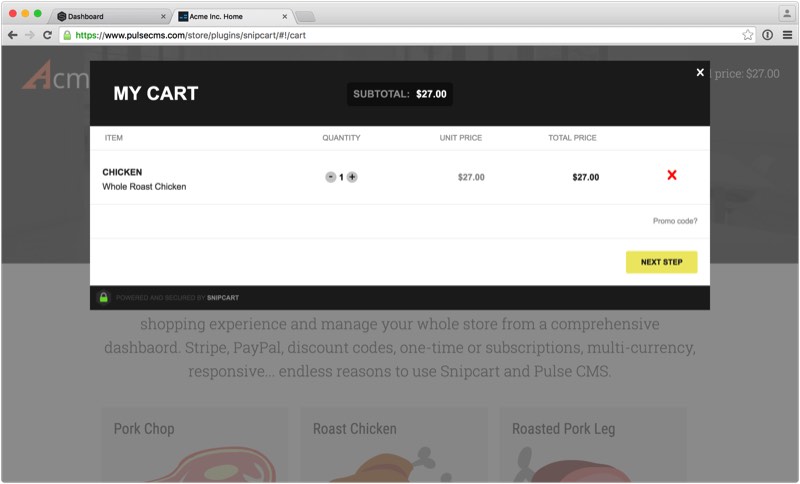 The real gorgeous power that comes with Snipcart is the comprehensive dashboard. Here you can manage anything from your orders, customer information and payment gateway integration. I like having this separate to the actual CMS. Pulse is a light-weight flat-file CMS with no database, so having all this e-commerce information hosted and stored on Snipcart's side stays true to our vision of a fast, mobile-friendly and minimal CMS. It's a match made in heaven.
Another advantage of this method is if you are lucky enough to have a small team or your client has a marketing manager, webmaster, product designer and so on then you can give the Snipcart login info to the right person. They can manage orders and create discount codes for marketing emails, without breaking the site. And the webmaster (love that word) can keep all the CMS under his lock and key (picture the janitor with a ring of 100 keys on his belt; did he need that many?)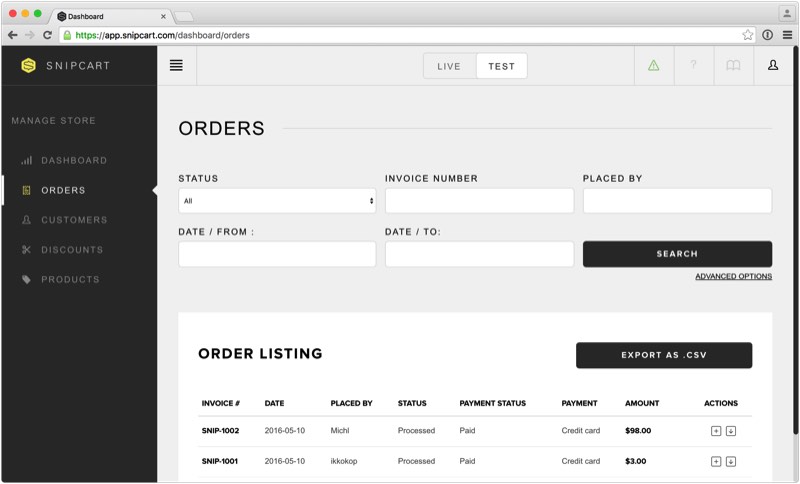 Speed is something we really focus on. Without even optimizing the server, no minimizing of the JS or CSS code and with unoptimized images and a few external assets calls, the Snipcart demo page still clocks in at 77% faster than other websites, according to Pingdom. That means many people will find the site fast to load and it will lead to higher conversions and sales.
For Pulse also in particular, our audience is from the world over and Snipcart hits the spot there. Pulse is in 18 different languages, so having complete control in Snipcart of multi-currency and a hand in the regional settings where you can enable the locations you can sell your items, this is a real international sellers cart solution.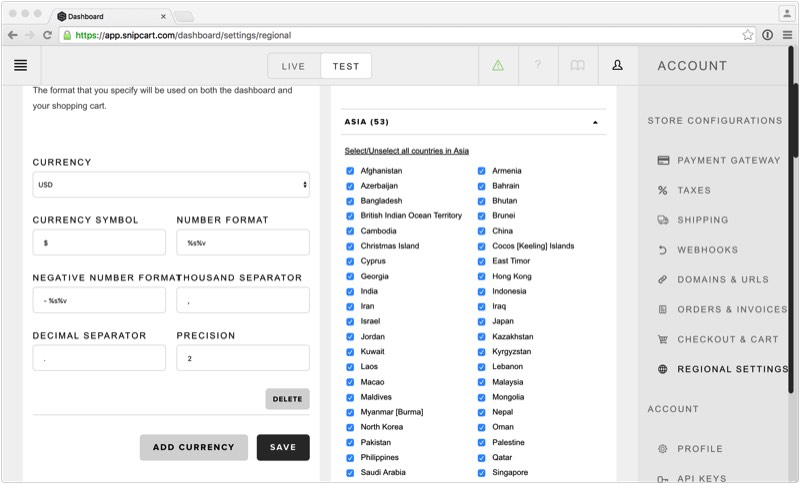 How to get it working?
Developers can get started with Pulse CMS e-commerce using the standard Snipcart installation, or better yet, by trying on the dedicated plugin directly. It'll help get your store up and running in no time!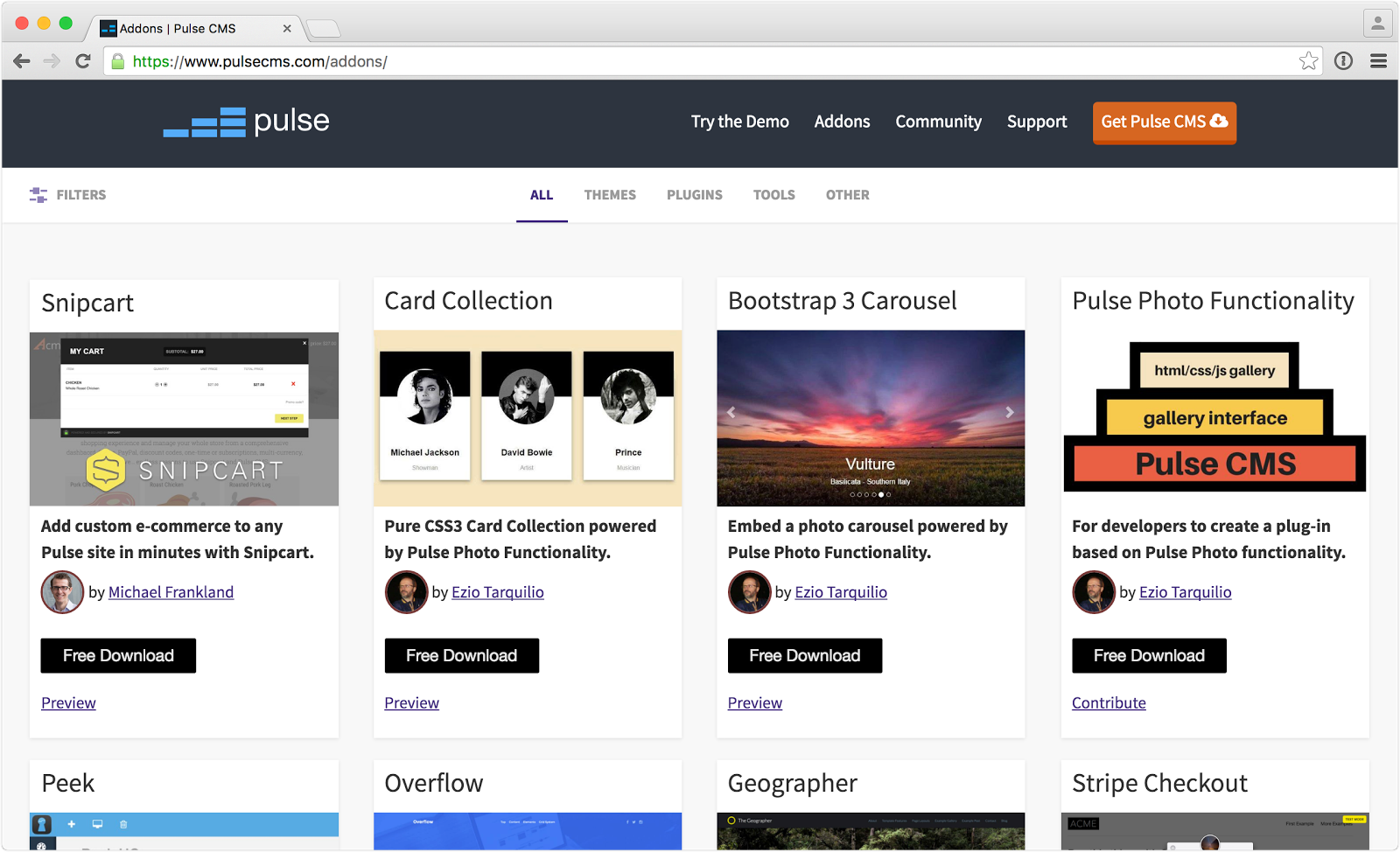 So bravo Snipcart, it's great to have such a flexible solution power e-commerce in Pulse CMS!
---
Would you mind taking a second to share this news on Twitter? We'd love that. Got any questions regarding Pulse CMS, or the dedicated Snipcart plugin? Hit the comments! Michael and our team would love to discuss it all.
Suggested posts: