Product Development Update: September
September 08, 2016
The Product Development Update invites you to peek at our product roadmap and exposes latest & upcoming releases.
We didn't mess around last month. As a matter of fact, we even tackled one our earliest technical nemesis. So I'm super happy to be sharing this product update with you on behalf of the whole team. We've just shared the news on our monthly newsletter, but we'll explore these fresh out of the oven features more thoroughly in this post.
Improved analytics and reports in the merchant dashboard
Our previous Dashboard analytics graphs were good looking but didn't bring much instant value to merchants. So we re-thought this first—and crucial—dashboard screen entirely. We wanted merchants to log in and immediately get a comprehensive bird's-eye view of their e-commerce operation. And I believe we managed to give them just that: a sexy, insightful snapshot of their online business.
Now let's see break it down and discuss the new components of the Dashboard screen.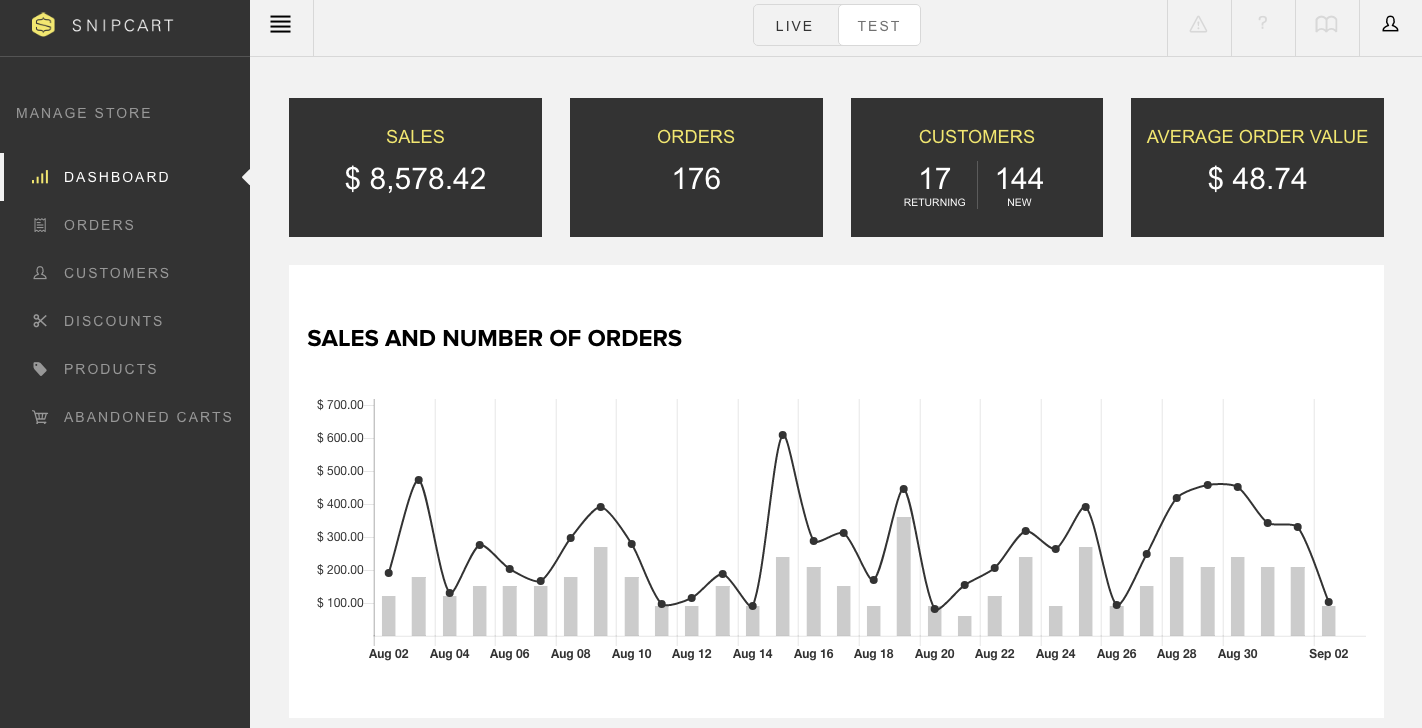 Important note: By default, we display data from your last month of operation. But you can filter and display all of the following metrics for any period you want. Just pick a date range and the numbers will update accordingly!

Metrics highlights
First new thing you'll notice are the little black boxes at the top of your screen. These metrics highlights provide you visual shortcuts to important business data for the selected period:
Total sales
Total number of orders
Ratio of returning vs. new customers
Average order value
New analytics graph
We combined the Sales & Orders data into a single graph. The gray columns represent the number of orders you've processed for a given day, while the black dotted line represents the amount of sales you've made. Hence, the longer the distance between the two (column vs. dot), the higher your average order amounts will be.
You can also hover on a specific column to get details about a particular day: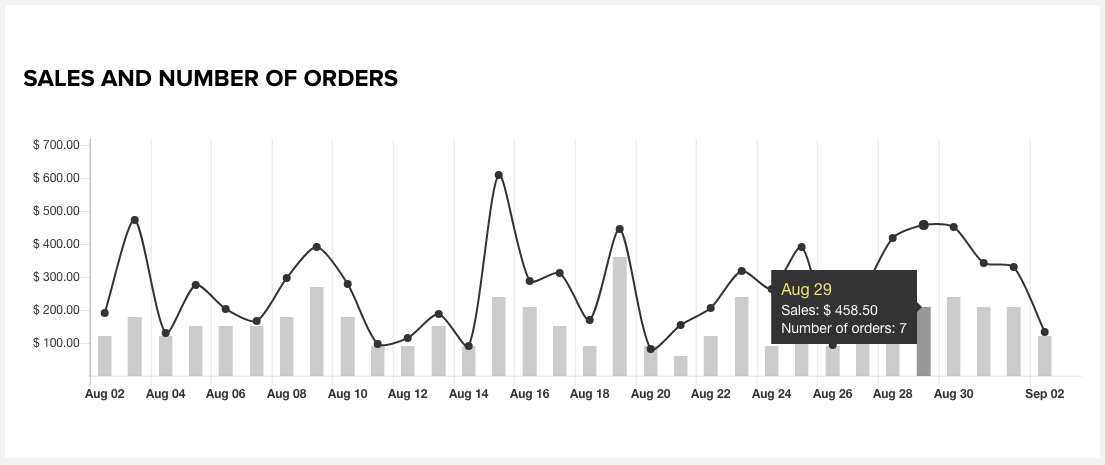 Top customers & products sections
The two last but definitely not least sections you'll see in your Dashboard are Top customers and Top products.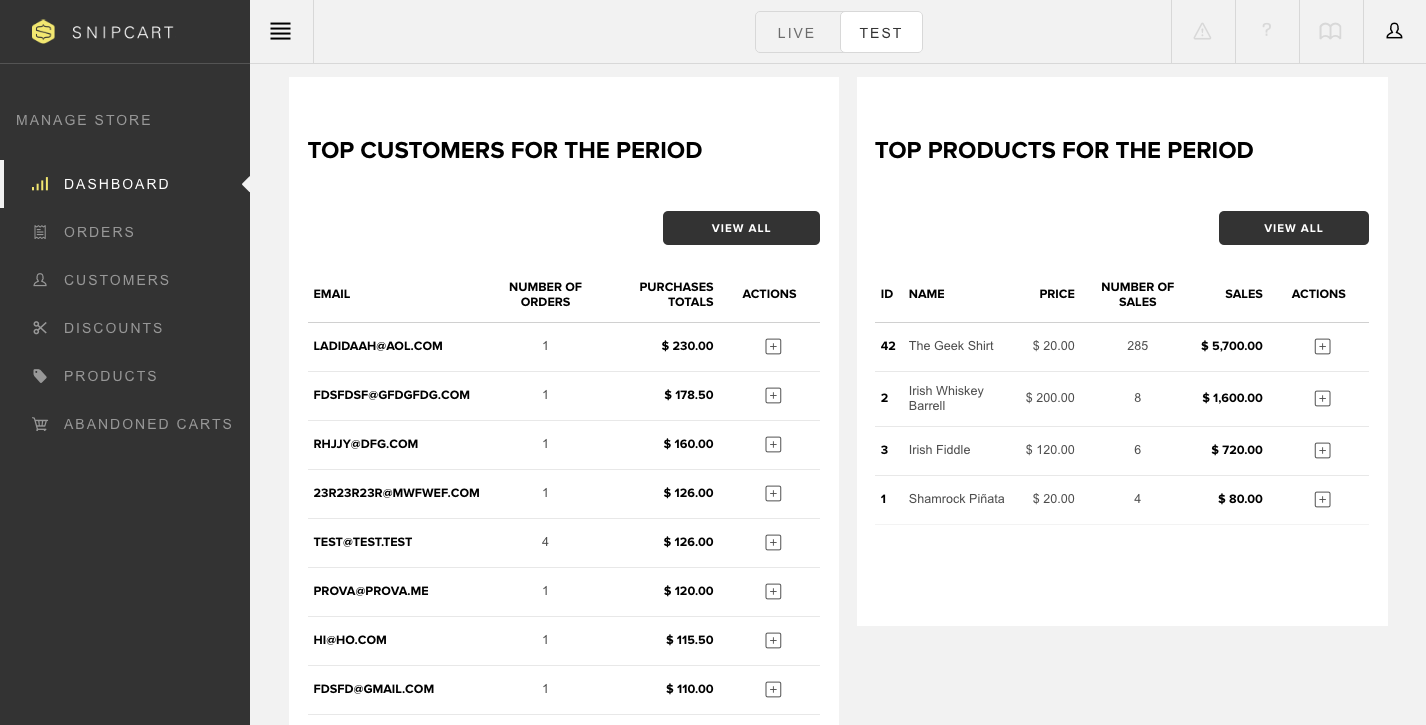 Top customers
This section lists the top 10 customers who have purchased the most on your store for the selected period. Maybe shoot them a special thank you with a promo code? Or ask them for product/customer support reviews for your site? Up to you!
Top products
This section lists the top 10 products bought on your store for the selected period. Maybe use these insights to create new promotions on your site or email list, plan stock inventories, offer more similar products? Your call!
What's next?
First, we'll add the latest completed orders in the dashboard section. Then, we'll start working on something we code-named "behavioural analytics". I don't want to reveal too much about it just yet, but let's just say it'll provide some quite advanced and insightful customer data for our merchants!
Inventory management in the merchant dashboard
Now for the technical nemesis I was telling you about: inventory management.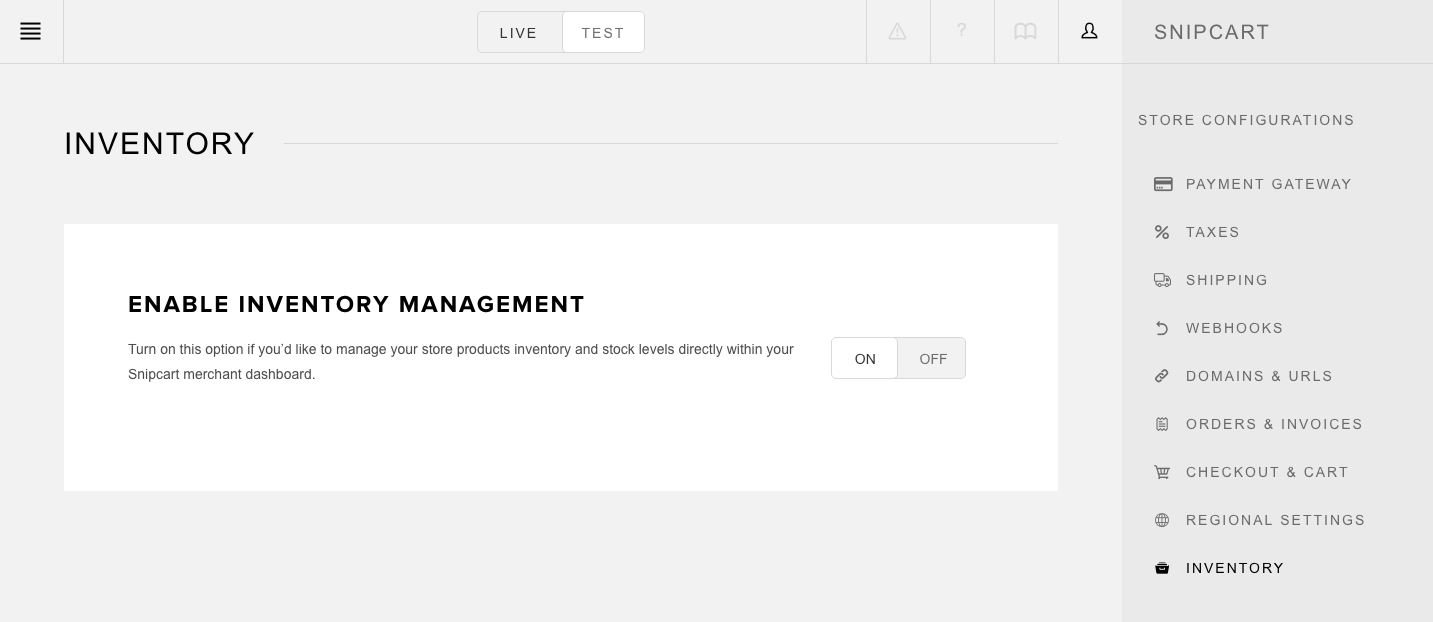 As you probably know, Snipcart is injected directly on your website's frontend using simple JavaScript & HTML definition. So it doesn't require you (or us) to run any product database. Hence, it made it hard for us to provide full inventory management at first.
So what we did is create a simple products database on our side of the application. This allows us to track and update your inventory throughout the transactions processed on your store.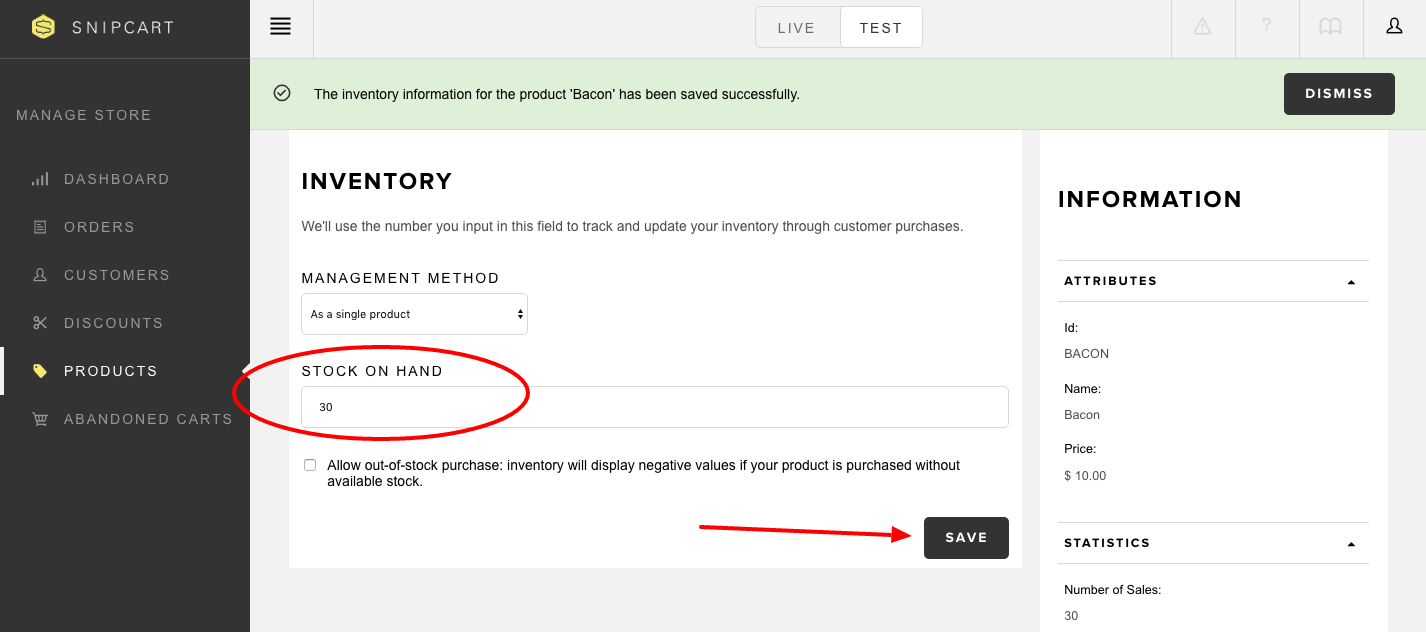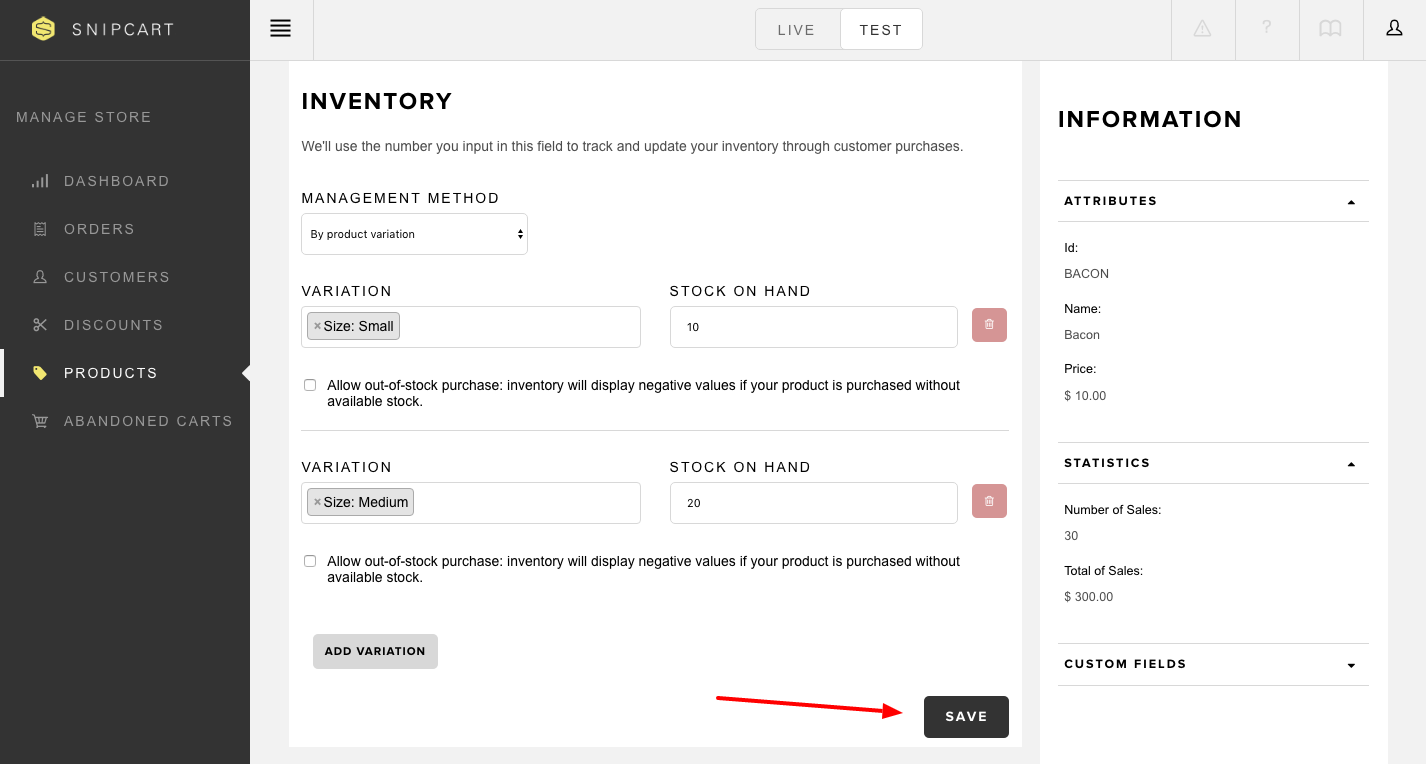 All you have to do is activate the inventory management option, and set available quantities for your products or product options in the Products section. We handle the rest:
Incrementing and decrementing your stock level in the dashboard
Blocking transactions and notifying customers if stock level isn't high enough for their orders
You can also allow some products quantities to go below the available stock level. To do so, simply mark the checkbox "Allow out-of-stock purchase."
More details on the inventory management feature and how to use it in our documentation.
What's next?
Our next step here will be to allow merchants to subscribe to near out-of-stock products email notifications.
Quick peek at the product roadmap
Here are the main elements we'll be focusing our development efforts towards in the next few weeks:
More improvements to our e-commerce analytics
Multi-users support (permissions, multiple logins) and developer accounts
Automated retrieval and promotional workflows for abandoned carts
​Integration with payment gateway Braintree
Creating discounts with product categories
And that's it for this month, friends! See you early October with another in-depth update!
---
Got any thoughts on the recent improvements we've made, or questions on what's to come? Let us know in the comments. You can also suggest a feature, or reach out to us directly to discuss product specifics. We try to spend at least 20% of our development time on user-submitted features.
Suggested posts: