Product Development Update: October
October 06, 2016
The Product Development Update invites you to peek at our product roadmap and exposes latest & upcoming releases.
Last month, we tackled two popular feature requests: customizable email templates, and multi-users support. As a bonus, we also published a public changelog, and revamped our dashboard notification center. We've just shared the news on our monthly newsletter, but we'll discuss these new additions more thoroughly in this blog post.
Customizable email templates: invoices
People have been asking to customize Snipcart emails for a long while now. As you may know, many different emails are sent via Snipcart's app: invoices, abandoned carts retrieval, shipping notifications, order status change, refunds.
True to our developer freedom core, we decided to give lots of flexibility when customizing Snipcart email templates.
We decided the best way to go about it would be to integrate an email editor directly within our dashboard. Our lead developer, Charles, picked Handlebars.js as a templating engine for these emails, mostly because of its popularity and ease-of-use. Also, I suspect he liked the moustache logo a lot.
So, as you can see below, you can code & change stuff on the left panel, and get a live preview of your edits in the right panel. Cool, right?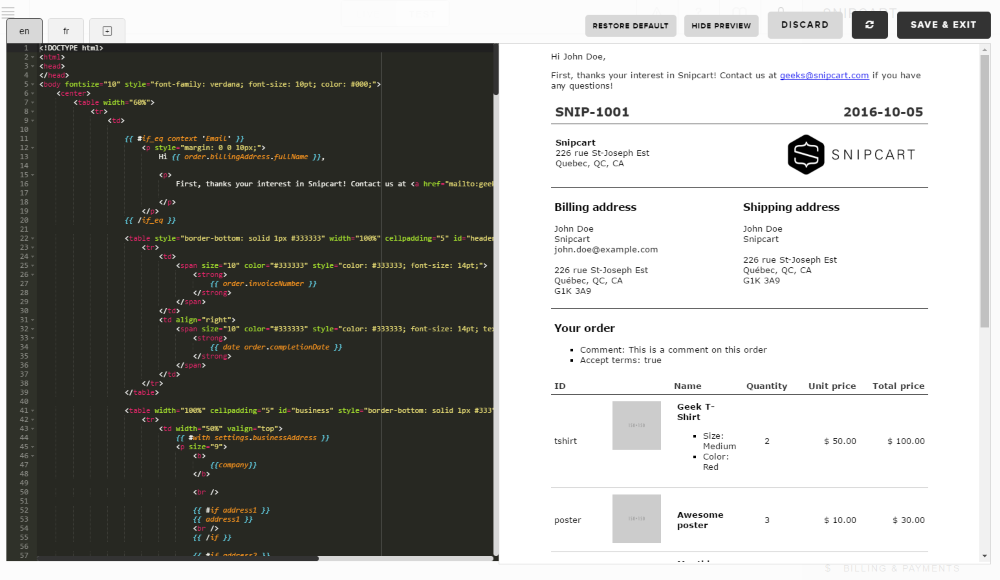 As of right now, you can only customize the invoice email in the dashboard. But fear not: all other email types are coming! We just had to set the whole templating workflow in place first. :)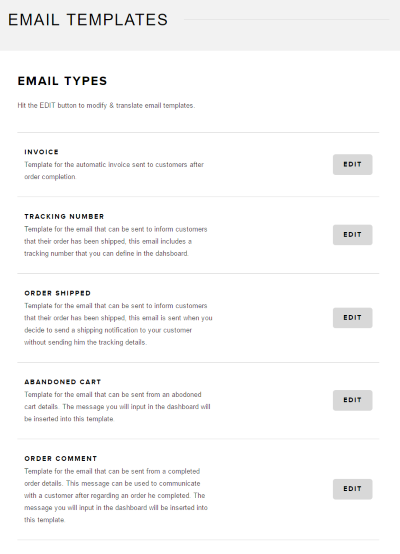 It's our hope that this feature will allow developers to create totally unique email campaigns right within Snipcart.
To learn more about email templates customization with Snipcart, see our dedicated documentation section.
Multi-users support
More often than not, using Snipcart means a close collaboration between developers and merchants. Naturally, many have asked us to enable multi-users accounts for their projects. And we finally did it! :)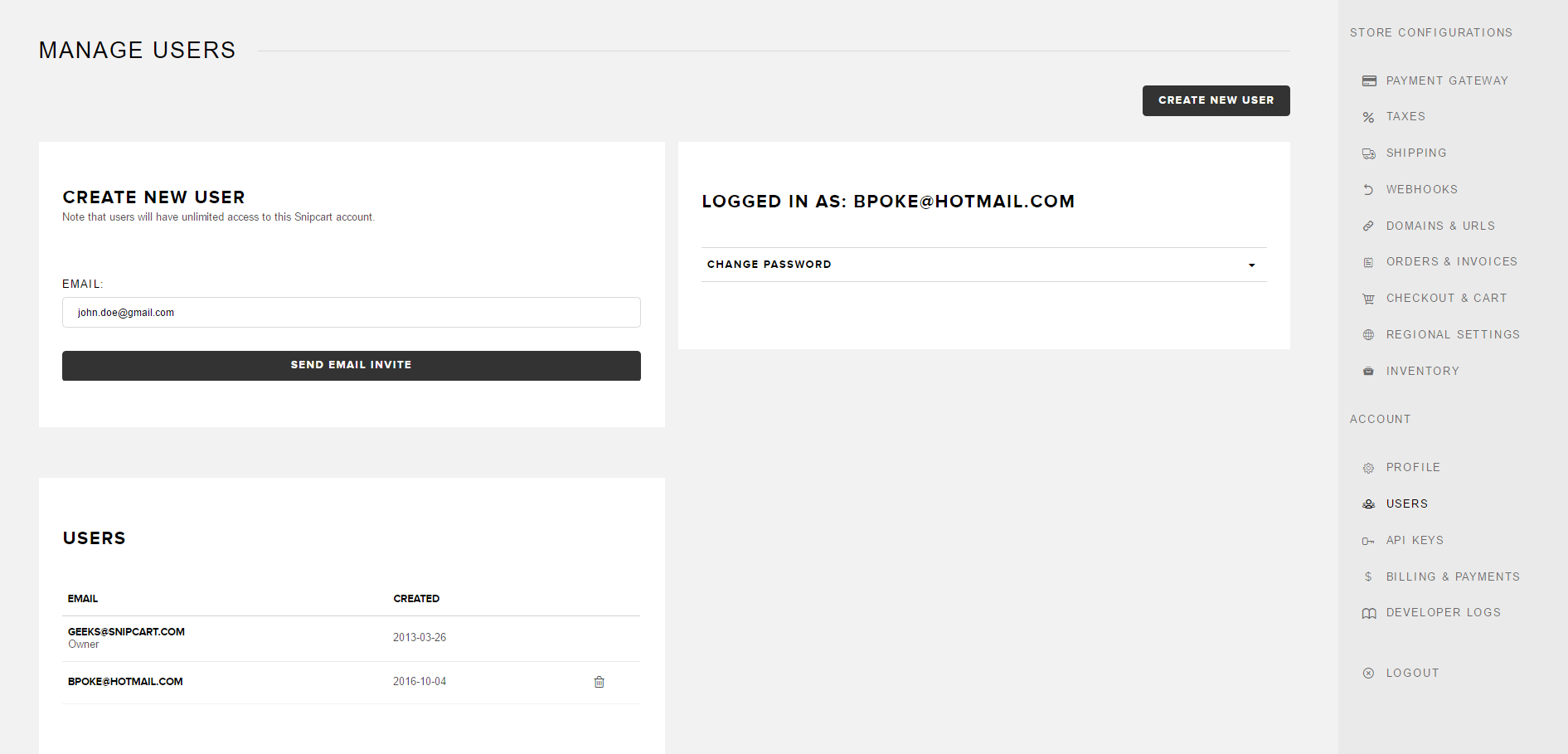 As a Snipcart Admin (the Admin is associated with the first email used to create the account), you can now send email invites to new users directly from the dashboard.
So, yeah, the more the merrier! The next iteration of this feature will focus on account-specific permissions within Snipcart.
For more details, head to the related documentation section.
Public changelog and revamped notification center
And, now, ladies and gentlemen, I give you the icing on the cake for this month: our new little friend called changelog. As a respectable software business, we felt like straight up impostors by not running a public changelog! So we created one, and pushed it to our documentation! You can see it here.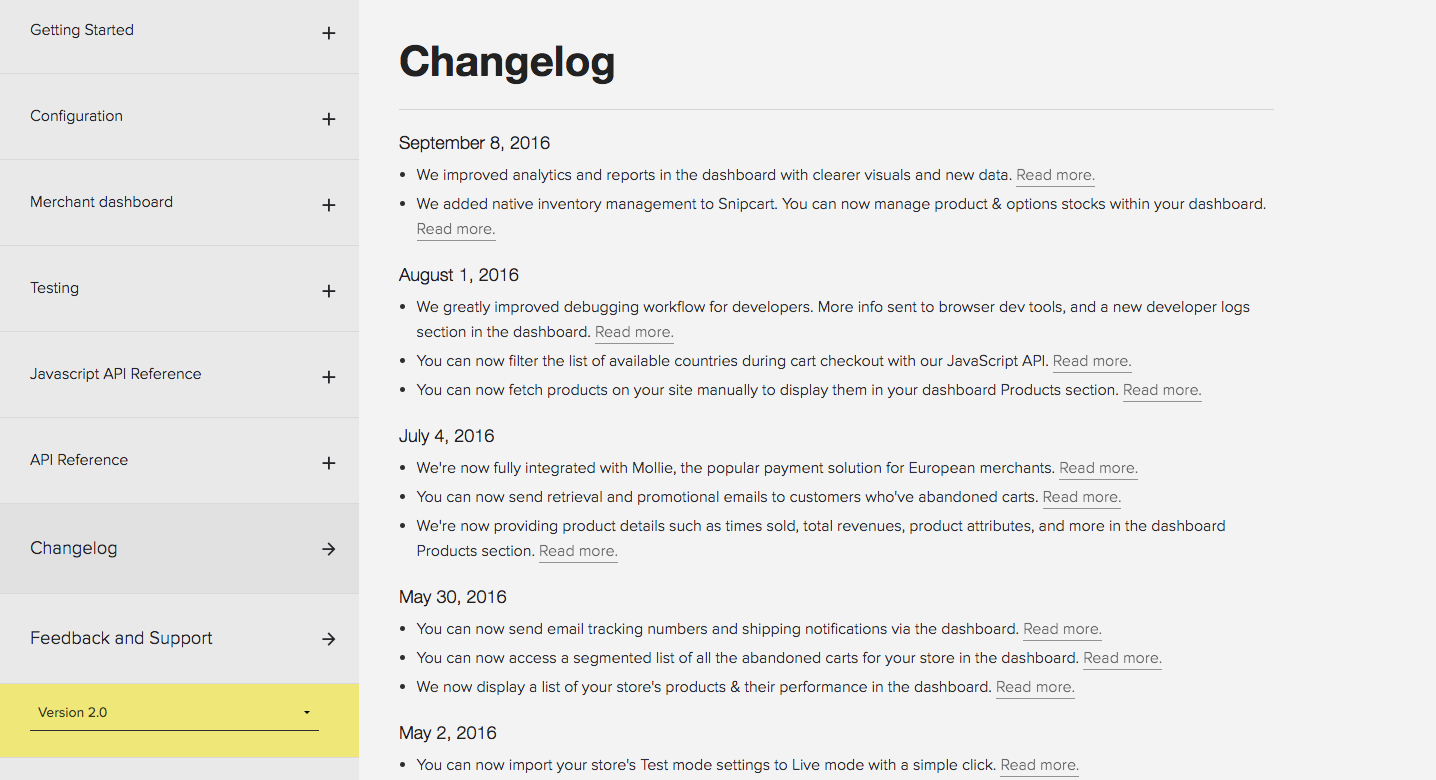 While we were at it, we synced it with your dashboard's notification center. Now, every time we release a feature, you'll get a small notification when logging into your Snipcart account. Ain't it grand? Oh, and we've refined your notification center's design a bit. Log in to check it out!

Further down the roadmap: upcoming features
Here are important features we'll focus on in the next few weeks (or months, because AGILE, you know):
Adding other customizable email templates to the dashboard
Digging (and structuring) behavioral insights and e-commerce analytics
Abandoned carts retrieval email campaigns (with conditions & discounts)
Account-specific permissions for developers, merchants & employees
Creating discounts with product categories
And it's a wrap up for this month! See you in November with another thorough update!
---
Got any thoughts on the recent improvements we've made, or questions on what's to come? Let us know in the comments. You can also suggest a feature, or reach out to us directly to discuss product specifics. We try to spend at least 20% of our development time on user-submitted features. Oh, and share the post on Twitter if you dig the new additions!
Suggested posts: