Product Development Update: July
July 07, 2016
The Product Development Update invites you to peek at our product roadmap and exposes latest & upcoming releases.
Since early 2016, we've slightly changed our product development approach. Long story short, we increased velocity by fragmenting big features and shipping code more often. These now-frequent product updates already show up in our monthly newsletter (subscribe here). However, we felt like email didn't give us enough room to elaborate. So we decided to start writing monthly product updates on our favorite platform—the blog. It'll allow us to have more in-depth discussions regarding recent and upcoming product releases.
For the first issue of the Product Development Update, I've decided to compile the new features and improvements we've shipped thus far in 2016.
A v2.0 for our new frontend shopping cart
This is without a doubt the first major step we took towards providing a more developer-centric e-commerce product this year.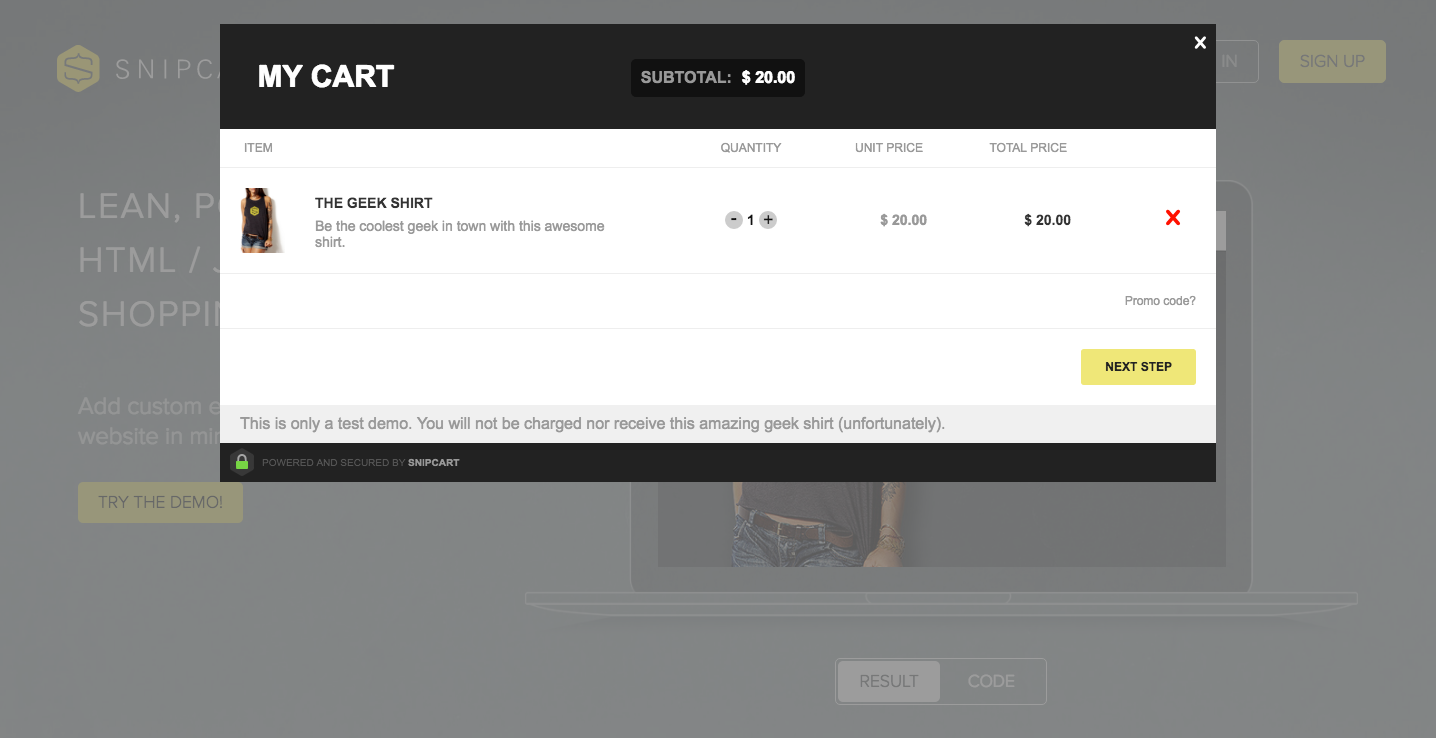 Using SASS, BEM & low specificity, we've designed and open-sourced a brand new modal shopping cart (see it on GitHub). This makes easy and advanced cart customizations much easier for developers. We took the time to chronicle the development philosophy and processes behind this major refactoring throughout four "Code Journal" posts: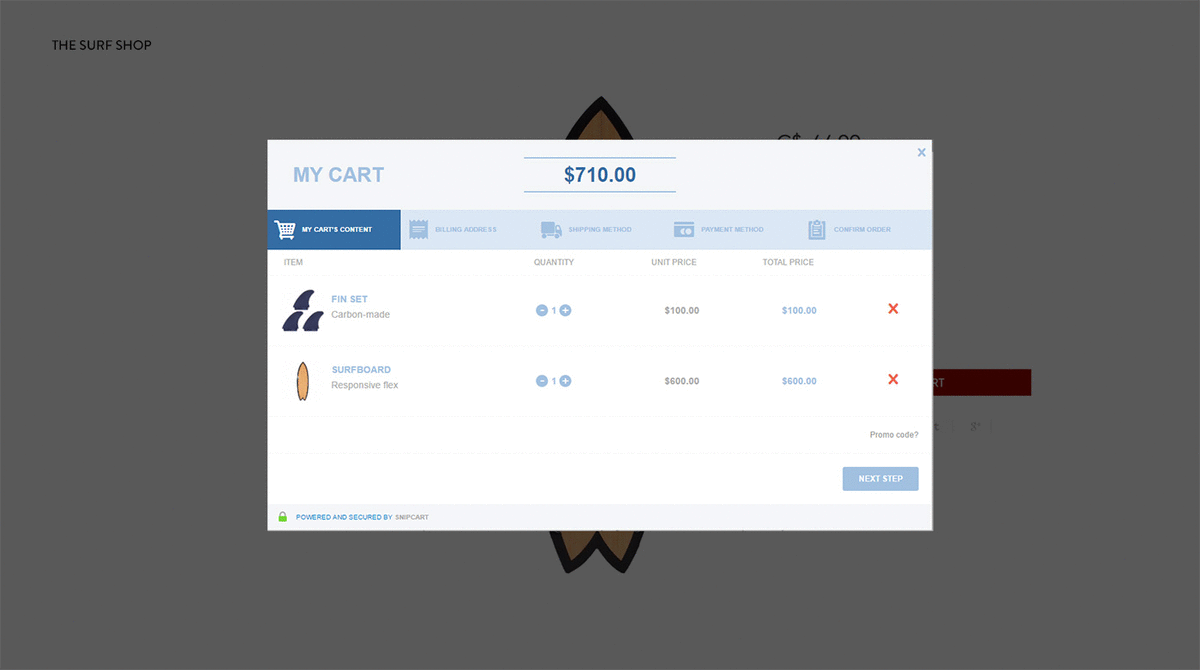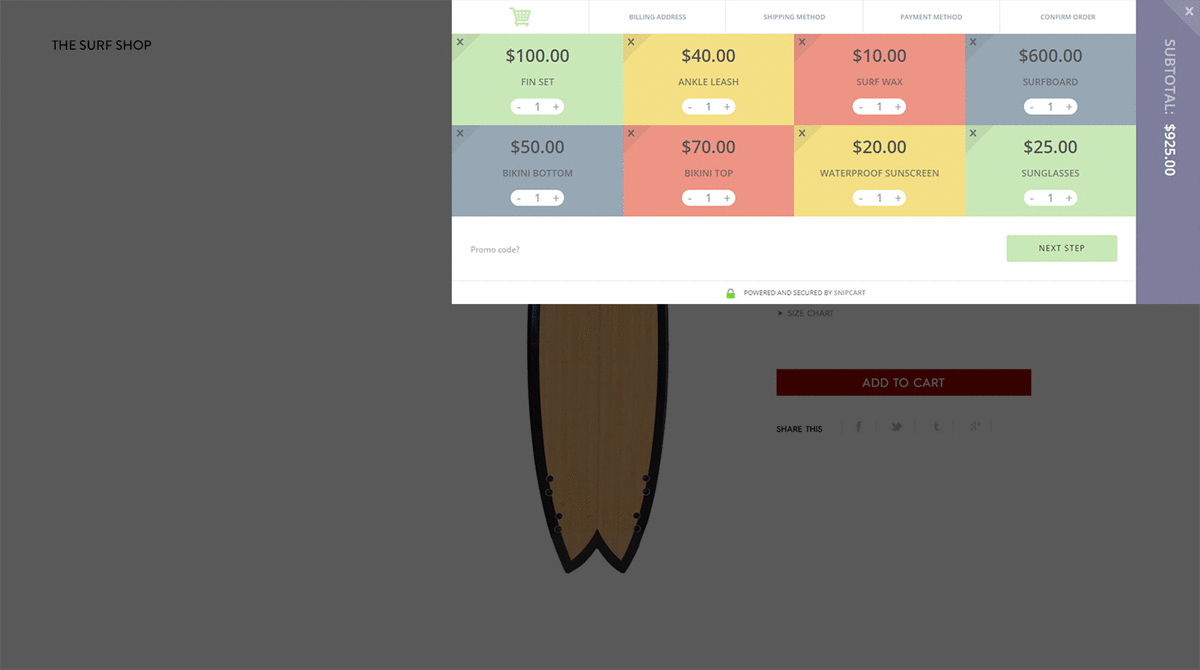 Learn how to customize Snipcart's v2.0 in this introductory blog post and this documentation section.
Products and inventory management
Inventory management is one of the most requested features we've had since we launched Snipcart. In the last few months, we started building it incrementally. As of right now, when a product is added to your site's cart, it shows up in the new Products section of your dashboard: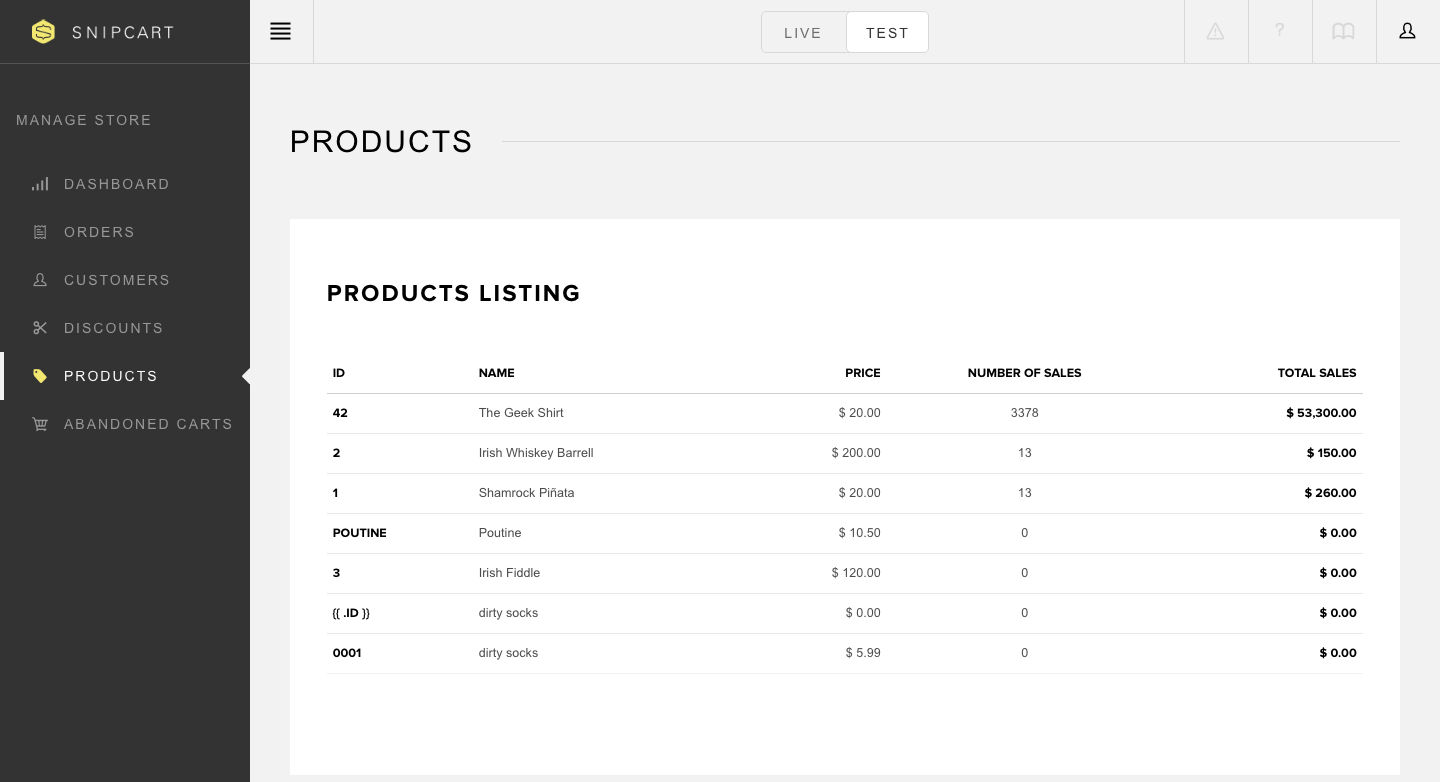 Clicking the ID of a product will bring you to the product details page. From there, you'll see the last orders and abandoned carts containing this product, the number of times it was sold, the total sales it generated, and its attributes. Read more in our Products documentation.
What's next?
Of course, this is only a beginning for inventory management with Snipcart. In the next week, we'll be working on:
Automatically fetching items URLs on your site to render all products in the appropriate section (before they're even added to the cart).
Allowing you to apply and modify quantities to specific products.
Gathering and displaying more advanced product insights and sales statistics.
Abandoned carts listing + retrieval emails
This is one important e-commerce marketing feature we're glad we added to Snipcart! We now list all of the carts abandoned on your online store directly in your merchant dashboard. You can then apply time, value, customer & products filters to segment specific abandoned carts.
On top of that, we added the possibility to send quick emails to owners of the abandoned carts. This gives you an opportunity to boost sales with smart reminders and targeted promotions. Read our documentation, and check out the GIF below: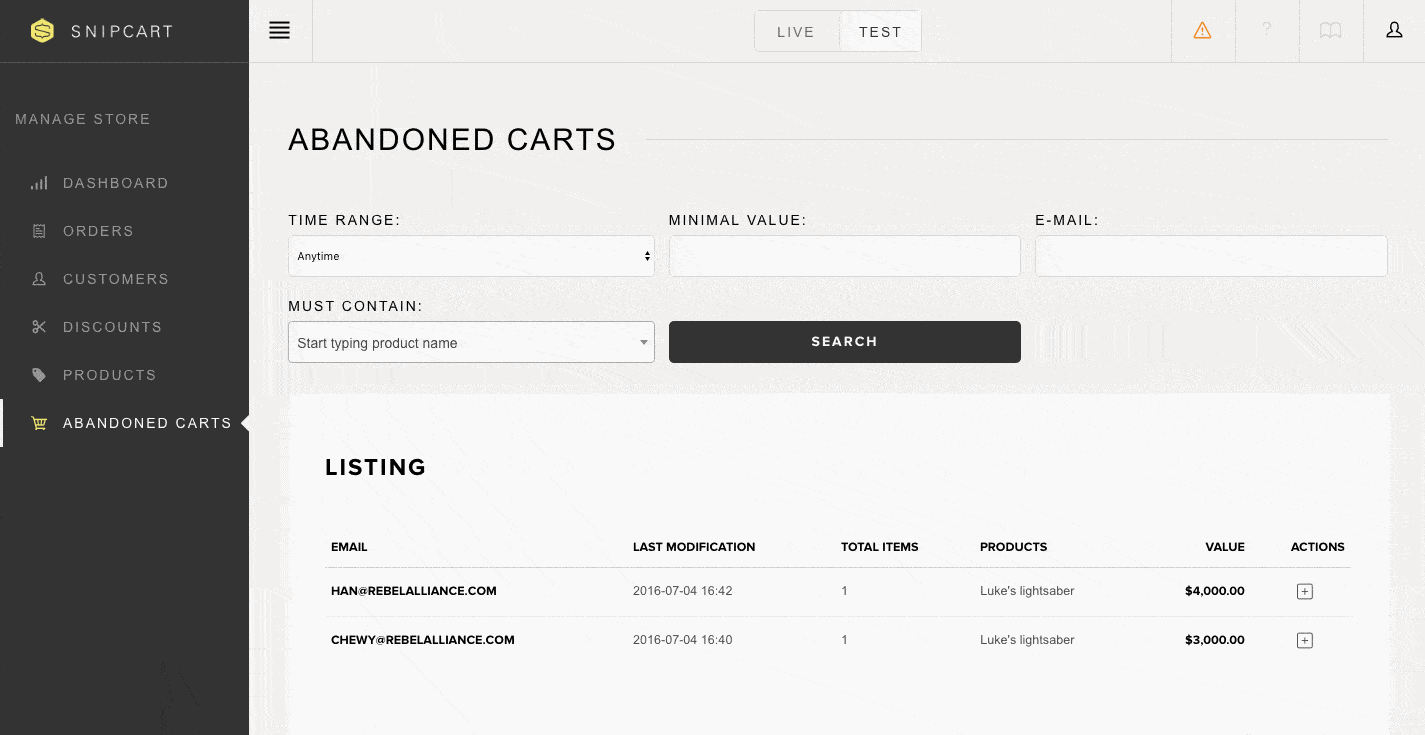 What's next?
Batch processing and various email scenarios will be coming up soon. For instance, you'll be able to create different types of retrieval emails (simple reminders, product-specific promotions, timely promotions, order-wide discounts, etc.), and send them to a chosen set of abandoned carts. This is going to make it easier for you as a merchant to optimize your sales and nurture relationships with customers. :)
Supporting multiple currencies
Snipcart now supports multi-currency payments. As a merchant, this means a more localized, frictionless shopping experience for your international customers (and more conversions for you). By enabling multi-currency, you'll also save them currency conversion fees on their credit cards. You can read more about how to set it up here:
And here:
You can also test a simple demo of the feature on this site.
Assign and send tracking numbers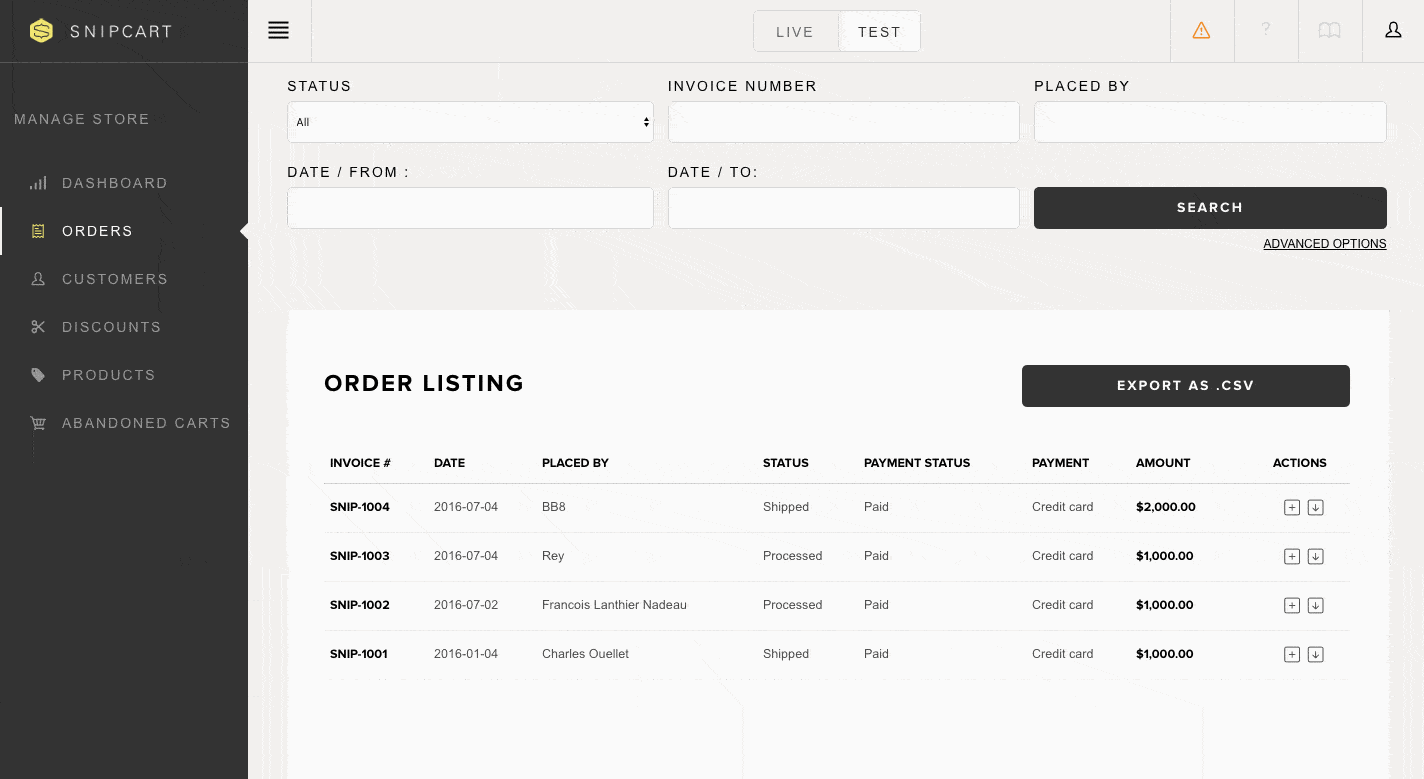 You can now send tracking numbers and shipping notifications to your customers via email. This can be done directly in your merchant dashboard. Your customers will receive an email like this:

Read our documentation to learn how to do this in your merchant dashboard.
Mollie: major payment solution integration for European users
In the last few months, many Dutch developers & merchants have been asking for an iDEAL integration. Thanks to a user suggestion, however, we found out about Mollie, which not only supports iDEAL, but also many other payment methods for European customers. So we took the time to fully integrate Snipcart with it. :)
You can enable Mollie as your payment solution in the Payment Gateway section of your merchant dashboard.
Further down the roadmap: comprehensive e-commerce analytics
In the next few months, we're going to start improving our merchant dashboard with clearer, more detailed analytics. We want our merchants to have an insightful look at their e-commerce operations' health. If you believe certain metrics to be essential here, let us know!
---
Got any thoughts on the recent improvements we've made, or questions on what's to come? Let us know in the comments. You can also suggest a feature, or reach out to us directly to discuss product specifics. We try to spend at least 20% of our development time on user-submitted features.
Suggested posts: