Product Development Update: August
August 04, 2016
The Product Development Update invites you to peek at our product roadmap and exposes latest & upcoming releases.
We managed to ship a few interesting product improvements this last month (despite our dear lead engineer being away for three weeks in Japan). As usual, we've shared them on our monthly newsletter—you can subscribe here. Still, we're going to explore these new features a bit deeper in this blog update.
Improving the debugging workflow for developers
I believe this to be the biggest improvement we've shipped in July.
Improving debugging was also a rather insight-driven decision. We came to realize that, more often than not, we relied heavily on our own application activity logs when providing user support. So one of our developers had the brilliant idea to share some of these logs with our users. After all, a strong majority of them are capable developers who appreciate a workflow uninterrupted by back and forth emails with support agents. This will most likely reduce our support efforts a bit and accelerate our development velocity.
It was a win-win scenario we couldn't ignore, so we made it happen.
Beefing up the browser developer tools
First, we added useful information in the browser developer tools: product definition errors & missing attributes, JS errors, failing requests, additional logs from your other services, etc. You'll now be able to get direct integration feedback in your browser, whether you're working on Chrome, Firefox, Edge or any other one. See an example below:

Adding a new Developer Logs section to the dashboard
In the Account menu of your merchant dashboard, you'll notice a brand new section: Developer Logs. We're now pushing a wide array of our own application activity logs related to your account in there.
The logs in there will be of great help when integrating Snipcart on a site or with external services.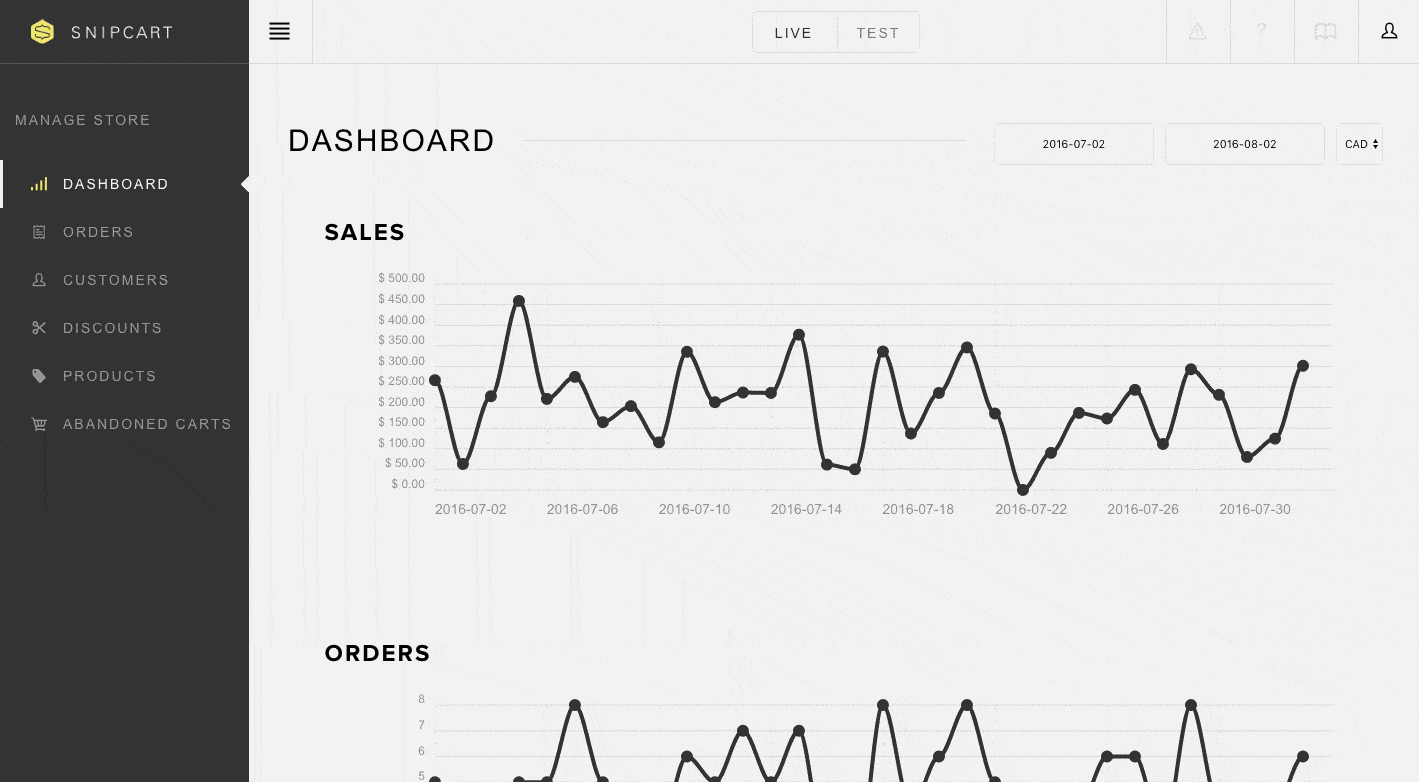 The cause behind many typical integration problems will be answered in there, such as:
Payment gateway integration not working
Shipping rates not computing
Webhooks not responding
Taxes not showing
What's next?
As time passes, we'll keep adding useful logs to the Developers Logs section in your dashboard. Here's hoping these help you squash bugs in a flash. :)
Enabling manual product URL fetching
As you may have read in our first monthly product update, we're steadily working on inventory and product management for Snipcart. As of right now, when a customer adds a product to your shopping cart, it shows up in the Products section of the dashboard. This gives you access to product details: last orders and abandoned carts containing this product, number of times it was sold, total sales it generated, and its attributes.
However, if you wish to display products in your listing that haven't been added to the cart yet, you can now do it. Simply use the "Fetch Products" button and enter the URL where your product lives to do so.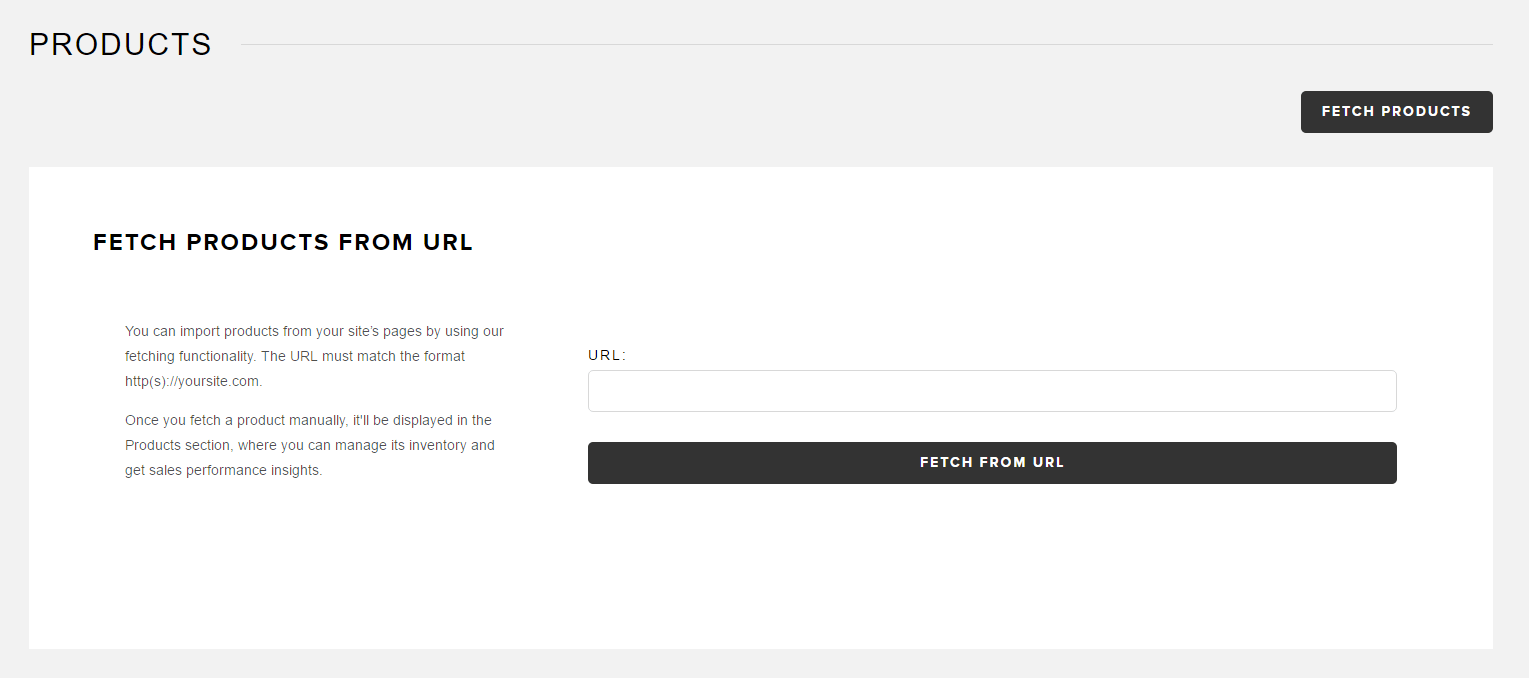 What's next?
This manual product fetching is a preliminary component to the site-wide, automatic products fetching we'll release in the next iterations.
We'll also be working on enabling the inventory management of specific products in this section, plus displaying deeper sales analytics.
Filtering allowed countries in cart
You can now filter the list of available countries (billing/shipping) in the checkout flow.
You'll be able to do so using our JavaScript API. This might be useful whether you're running multi-currency on your Snipcart store, or just want to offer a more tailored shopping experience to customers.
Have a look at this documentation section to see the API method we've made available for this use case.
Further down the roadmap
Here are the main elements we'll be focusing our development efforts towards in the next few weeks:
More comprehensive e-commerce analytics in the dashboard
Full inventory management for store products
Automated retrieval and promotional workflows for abandoned carts
And that's it for this month, folks. See you early September with another in-depth update!
---
Got any thoughts on the recent improvements we've made, or questions on what's to come? Let us know in the comments. You can also suggest a feature, or reach out to us directly to discuss product specifics. We try to spend at least 20% of our development time on user-submitted features.
Suggested posts: