How We Leverage UserVoice to Build a Better Startup
July 14, 2015
Update: while it initially provided a lot of value for us, we are no longer using UserVoice as a support system.
We have previously discussed some of the tools we use/tried for our startup on the blog. We dissected our marketing experience with a developer-oriented advertising network, bundled up our content creation tools and highlighted our results running a neat feedback and survey solution.
Now we know all of the support, optimization, monitoring, analytics, planning, testing tools out there look pretty enticing. Bombarded by clever copy and infinite benefits, we are tempted everyday to "Sign up for free". But saying yes to all those services is a sure-fire way to ramp up expenses for pre-revenue or low-revenue businesses.
So don't worry; I'm not here to serve you a 35+ list of paying tools for your startup. In fact, I'm here to talk about one tool and one tool only: UserVoice's Helpdesk. It has helped us build and sustain a better startup ever since we launched. So today, I'll give you a few tips on how we leverage this cool customer support tool for Snipcart.
Validating and updating our product roadmap
When we set out to build our shopping cart platform for developers, we had a rather clear vision for our product. It was, after all, solving a real problem we encountered ourselves many times as developers. After testing it on alpha and beta users, we shipped a full, first version of that product. Post-launch, we already had a product roadmap draft in mind. However, now that we were out in the open (and won an Awwwards), our reach and traction widened, a lot. Flocks of new users from different backgrounds, with different needs, started coming to us. Of course, our feature set and vision were challenged. Ideas and suggestions began to accumulate on our public UserVoice forum.
Here's how we handle it: First, when those requests match our vision and philosophy, we acknowledge them (the concrete UserVoice action for this is to update the suggestion idea to Under review). When those same requests keep popping up and being upvoted in UserVoice, we act on them. This means three actions on our part:
Transforming the suggestion into a clear feature and logging it in our Pivotal Tracker backlog.
Moving it to the appropriate rank inside our Pivotal Tracker product roadmap.
Changing the UserVoice suggestion status to Planned.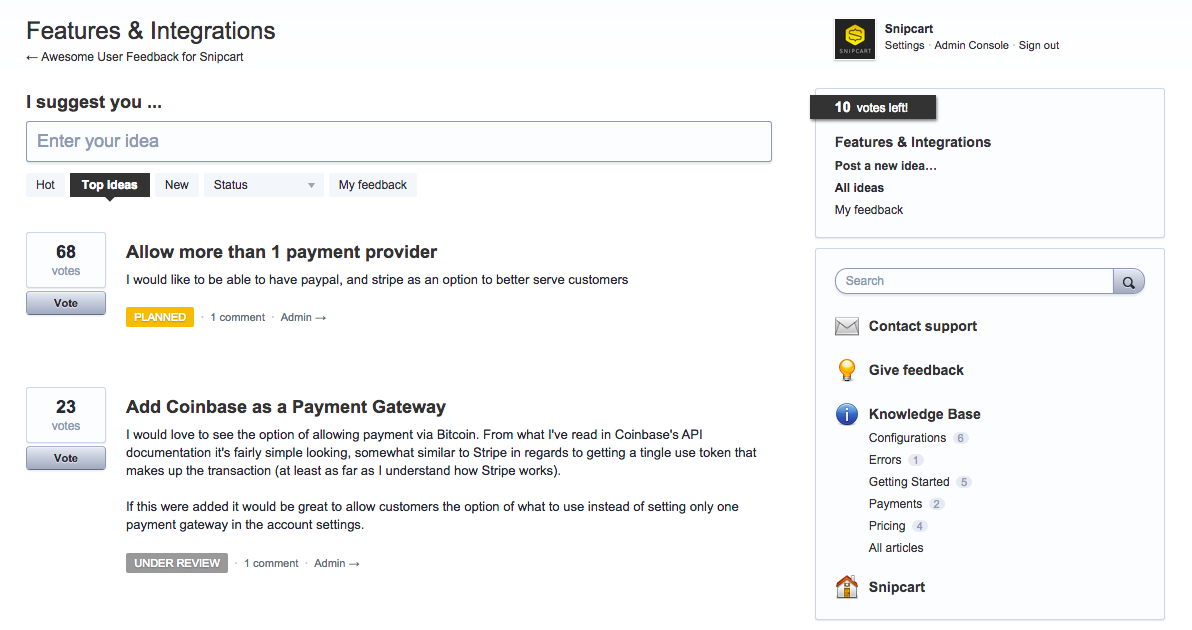 After small or big iterations, we always take some time to analyze our UserVoice tickets backlog and feedback forum. To be honest, we don't really store and keep track of the different suggestions and problems. Like the folks at 37signals, we believe in letting the frequency and continuity of requests validate their value.
For instance, when we were getting ready to start coding our latest big feature, we were a bit hesitant: should we tackle digital goods or recurring payments first? Both seemed very important to us and our users. We decided to wait a little, optimize some small parts of our app, and look at what resurfaced in UserVoice. After a bit of monitoring and quick searches, it became evident that the demand for recurring payments and subscriptions was higher than the one for digital goods and download. Result: we recently launched recurring payments and subscriptions with Snipcart.
Cutting down on support time and efforts
Using UserVoice smartly also allows us to minimize the volume of our support efforts, and maximize their efficacy. In other words, to become more support-efficient. As Scott Hanselman put it, there is only a finite number of keystrokes left inside of you. With that in mind, here's how we try to optimize support:
Building and maintaining a comprehensive knowledge base
As soon as we get a recurring request or ticket subject, we try to turn it into a Knowledge Base article.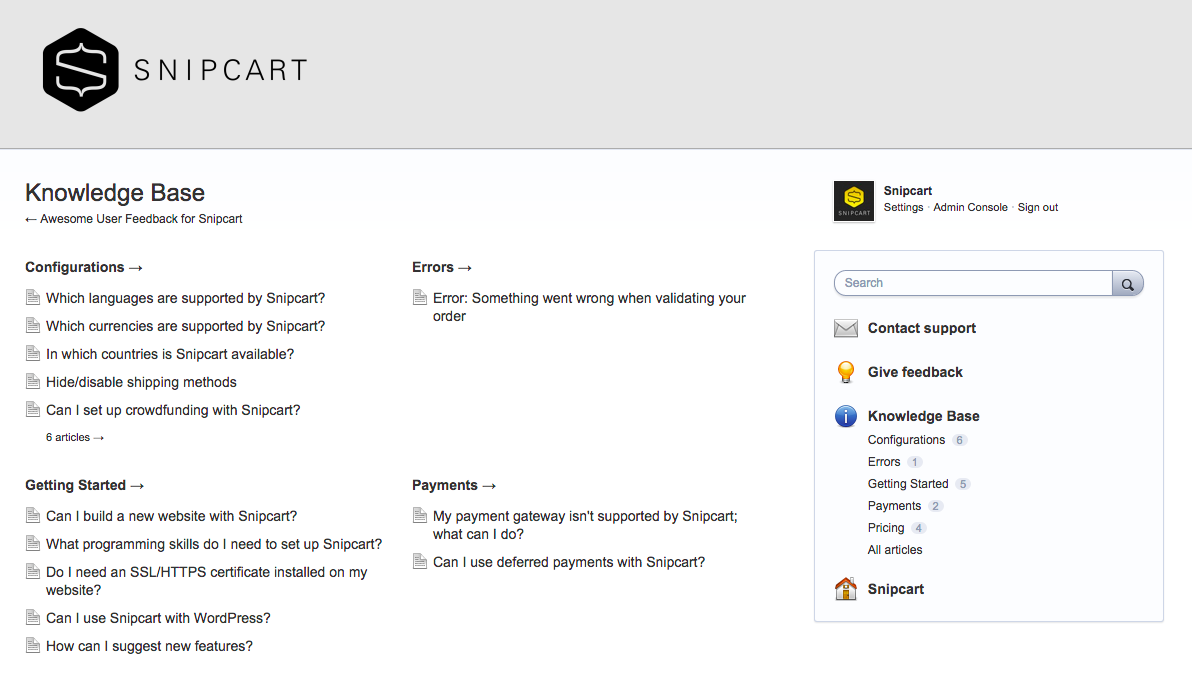 This enables what UV calls instant answers. Once they're logged in, those articles pop up automatically inside our support widget. As soon as users start typing their suggestion or requests, a list of related articles appears nearby. This dramatically decreases the number of support requests sent our way.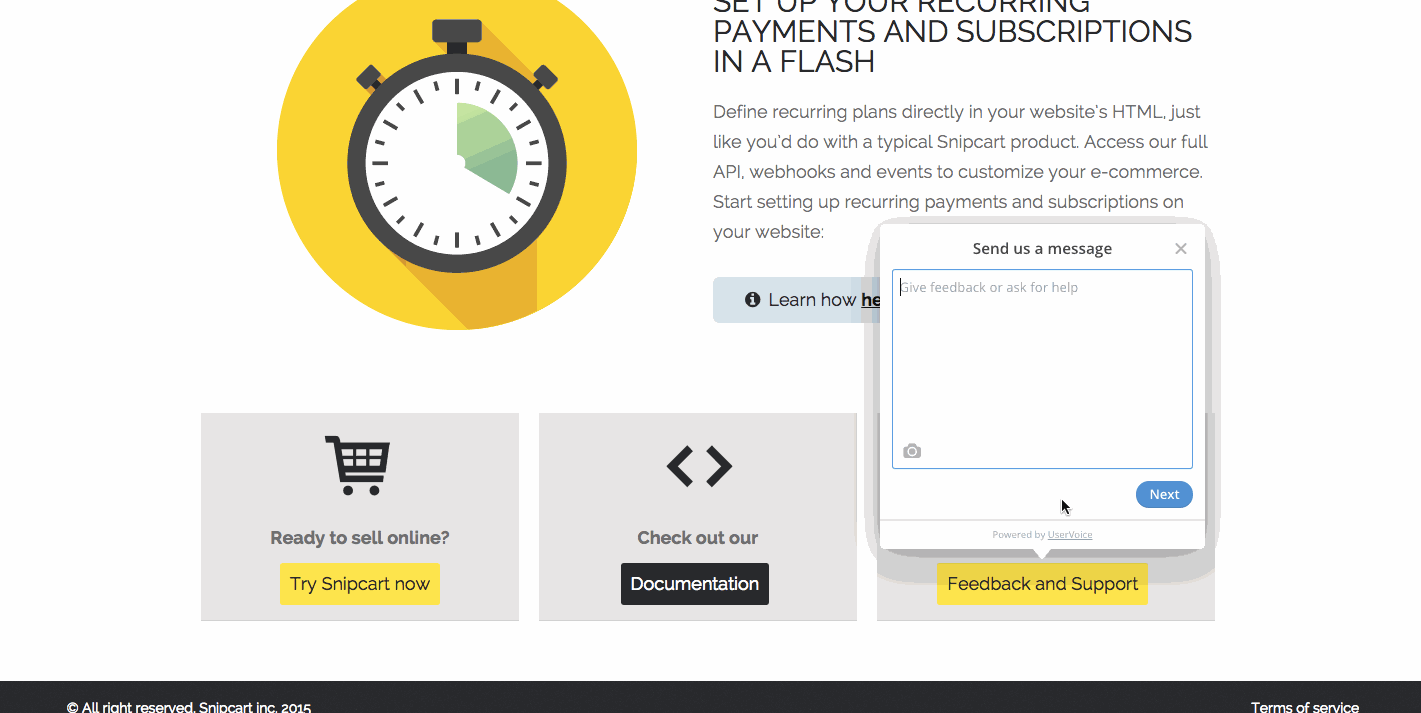 Updating our product documentation and FAQ accordingly
Now this one isn't exactly done inside the UV platform, but that's where the insights come from. Since our helpdesk isn't the only point of contact we have with developers and users, we try to make sure the other ones stay updated too. There are strong chances a user might decide to search our FAQ or documentation before opening a ticket through UV. Knowing that, we take recurring inquiries and turn them into FAQ pages and documentation sections as much as we can.
Feeding our content strategy
Creating and publishing quality content on a regular basis can be challenging at times for startups. While there are many sources of inspiration to draw from, we found UserVoice to be a pretty good one. After all, the content and themes in there all come from either active or potential users.
For instance, we got asked a few times through UserVoice suggestions and tickets to enable gift cards with Snipcart. While it's a cool feature, we don't plan to support it natively soon. However, it inspired one of our developers, Francis, to build a quick PHP app to allow our users to do just that. We turned this into a how-to hack the feature blog post, which drew positive feedback from our audience.
So you won't be surprised when I tell you some of the content found in our Guides & Tutorials documentation section was inspired by studying our various UserVoice entries.
Another cool UserVoice feature we like to leverage is the Google Analytics integration. Long story short, it gives you comprehensive metrics regarding your UserVoice site (forums and knowledge base). This allows us to spot popular issues and subject we can focus our content on. And it's very easy to set up on top of that.
Conclusion: give UserVoice a spin
Support is a quintessential dimension of running a startup. There's no denying that. If you're an early-stage startup looking to set up easy customer support, we recommend giving UserVoice's Helpdesk tool a legit try. The standard version isn't that expensive: 15$/month per agent as of right now. Since we only have a few developers that work closely together on support, one agent account has been enough for us thus far. If you're inclined in learning more about their plans, you can do it here.
As for us, we'll keep leveraging UserVoice for our customer support, user feedback, roadmap validation, and content. It's kept us on edge and kept the conversation flowing between our users and us.
---
Are you using UserVoice for customer support? If so, do you have anything to add to our list of benefits? Another helpdesk maybe? Feel free to hit the comments section and provide us with your feedback. And if you liked the post, go ahead and share it on Twitter!
Suggested posts: