Griindi: Selling Custom Branded Coffee with Snipcart
April 30, 2015
I wonder: What would the world be like without coffee? Knowing our co-founder Charles' coffee-drinking habits, I'm guessing Snipcart might not even exist. This means I wouldn't have a job. Maybe I'd be living out of a cardboard box in the streets of Québec, who knows?
All right, enough with the nightmarish scenarios. Today, I want to introduce our highly caffeinated Snipcart user of April: Griindi.
What is Griindi?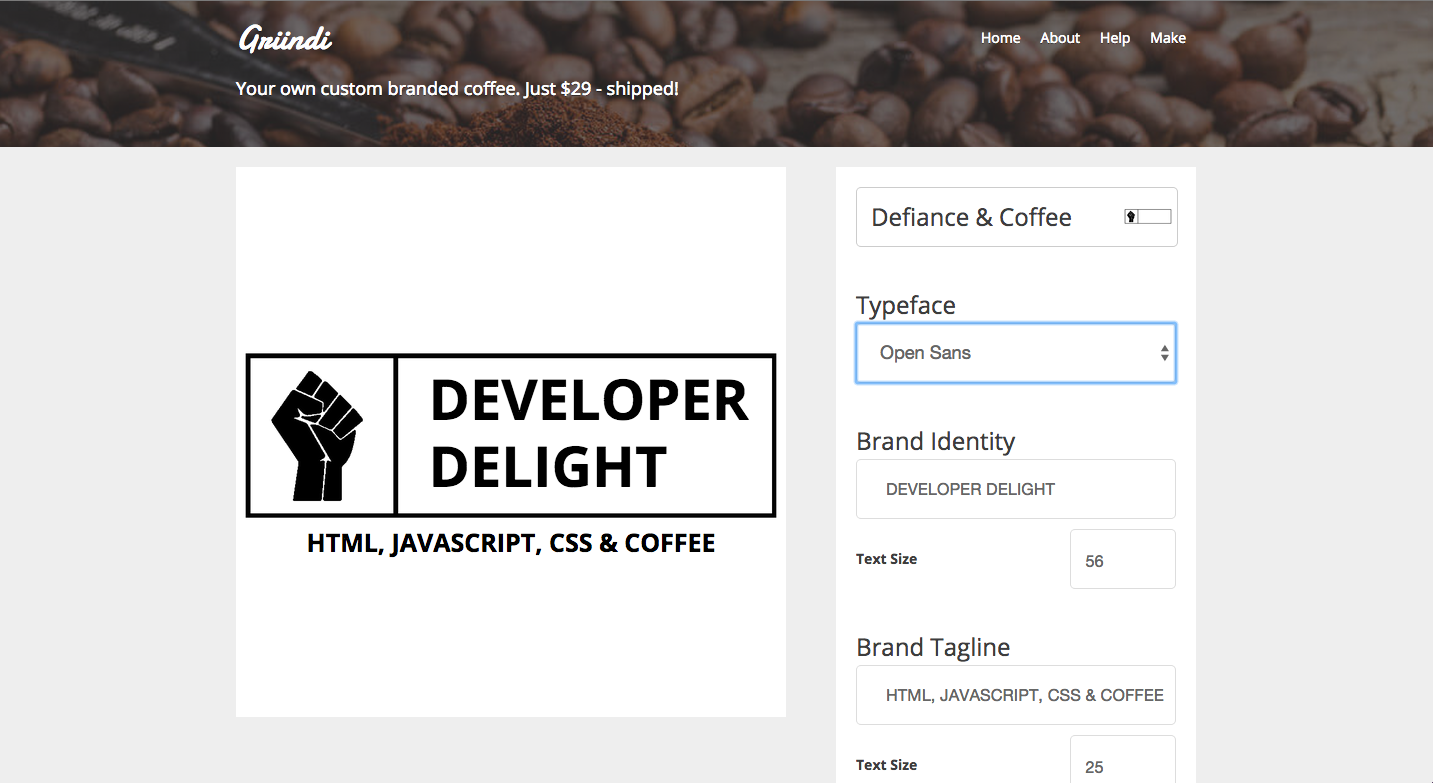 The folks behind Griindi really created an awesome product: a custom coffee branding tool. You can create your own personalized brand of coffee by selecting your name, your typeface, your tagline, your logo and your blend flavor.
(We'd order immediately if they shipped north of the wall, aka Canada)
They inject a genuine dose of humor and personalization into a truly classic product. Plus, they don't offer cheap coffee: when creating your brand, you'll choose from a selection of international organic beans roasted directly in Idaho. No wonder they got featured on the famous Product Hunt list a few weeks ago.
You can use Griindi to create custom branded coffee to give as a gift (pretty cool gift if you ask me), or to enjoy for yourself and your team/band/family/street gang.
We got Topher, the brain behind the project, to answer a few questions for us regarding his product and ours:
Interview with Topher, founder of Griindi and freelance developer
Q: Here at Snipcart, we often say the execution is way more important than the idea. But still, you had an awesome idea with Griindi, so I must ask: where did it come from?
A: A mildly off-color joke while playing Call of Duty with my brothers. I paused afterward and was like, "That's a good idea, though" and then we started the next day.
Q: Do you have any idea which brand image has been the most popular up until now?
A: Yeah, these two both make up 20% of orders: Taste Freedom & Top Hat FTW. The rest are pretty spread out.
Q: As the founder of Griindi, can you tell us what's your personal favorite variety?
A: I am partial to the Costa Rican Amistad, but the breakfast blend is pretty solid too - though I typically hit that one in the evening rather than morning.
Q: I've seen on the Product Hunt thread that many people would love to be able to upload their own images for their custom coffee brand. Is this something you've put on your product roadmap?
[EDIT: The feature is now available :)]
A: Yeah. That was a longer term goal originally, but with all the requests we moved it up and it should be ready within a few days. We've already filled a handful of orders with people emailing us their logos, so we're excited to give the control to the people using our service.
Q: Why did you end up picking Snipcart for the e-commerce part of Griindi?
A: It was easy & supported Stripe. We didn't want to build anything that we could have someone else do for us, and Snipcart was exactly that. Plus it allowed checkout on site, and the custom fields let us pass in order ID's, labels, and so on.
Q: With which website technology did you integrate Snipcart? How did it go?
A: We built on Meteor - this is definitely overkill for the site, but we have an app that should be hitting soon and Meteor is isometric, which lets us deploy our site as an app, with the necessary optimizations and extra parts (like a draw your own logo deal we're working on) with minimal effort.
Q: In the spirit of transparency, we'd like you to tell us what we could improve to make Snipcart a better e-commerce solution for you?
A: I'd like to see the custom fields show up in the Snipcart dashboard.
Q: As a developer (and merchant!) yourself, what's the one thing you liked the most about working with Snipcart?
A: The support. We had an issue, and I tweeted about it, not even asking for support, and in less than 10 minutes we had a @ reply and an email helping with the issue. It turned out to be a misreading of the docs, and thanks to the support had it fixed in minutes instead of the hours it might have taken before we realized we had misread the docs. I doubt I've ever had so much help so fast, on anything.
---
We'd like to thank Topher for taking the time to chat a bit with us. We're done for this month; we'll be back in May with a new featured Snipcart user. In the meantime, head to Griindi and get creative. Send a unique gift to someone special, surprise your team with an awesome brand of your own coffee, or order some for yourself (it'll make your kitchen look cooler).
And if you want to see more of Topher's work and ideas, we strongly encourage you to visit his website No Warp Zone.
Questions, opinions, feedback? Hit the comments, friend!
Suggested posts: