Full-Year Roundup: Snipcart Is Turning 2 Years Old!
July 28, 2015
The big status update
We've been getting our international game on in the last 12 months at Snipcart. In between Colorado, Québec, Montréal, Siargao, Nantes and Paris, some team members and I have been around quite a bit:
I stayed four months in Colorado to expand our US reach, connect with an awesome startup community, and receive live feedback from local developers and businesses. Our co-founder Charles and I gave a conference at Québec city's biggest international web event (the WAQ). I presented our story and business model to a crowd of marketers in Montréal, showing them how crucial geeks and developers were in today's business world. I worked remotely from the Philippines for about a month (more on that in another post). Finally, our product manager Georges and I promoted Snipcart in two major events in France. Those were indeed some cool experiences, but I'll tell you about our thoughts on PR events later in this post.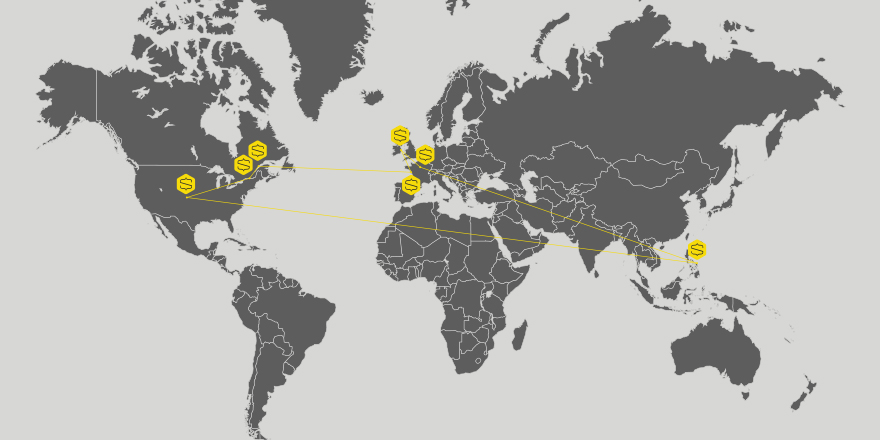 Worldwide Snipcart usage
Since we're talking international stuff and all, I thought it'd be nice to offer a visual overview of our worldwide Snipcart users distribution: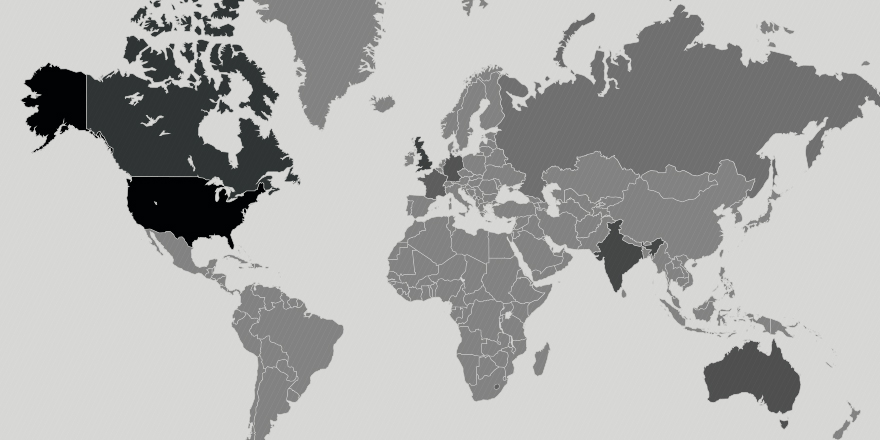 As you can see, our strongest user base concentration is in the US. Canada and the United Kingdom follow close behind. We've also noticed a slow but steady rise in usage in India, Australia, and France.
A quick note on growth
Things are going pretty well for us. User base and revenues growth are still healthy and steady. Revenues went up 300% since last summer. Every penny we made was directly re-invested in growing our business, our product and our ability to help developers sell online. We also reached our 5000th signup milestone a few weeks ago. At that time last year, we had about 1000 of them. We haven't touched a VC penny yet, and we don't plan on doing so.
Steady support + UserVoice
In last year's happy birthday post, we mentioned how we intended to treat support as a paramount dimension of our business. You might have also seen our recent post on how we leverage UserVoice to build a better startup. Well, during the last 12 months, we really optimized the use of our helpdesk tool and went hard on support. To give you an idea:
We personally answered 1500+ UserVoice tickets during last year.
To witness the increasing interest for our product was an inspiring thing, that's for sure. Of course, it meant a bit more support efforts, but they were well worth it.
We developed and shipped more than 30% of the features and ideas suggested on our public UserVoice forum.
We're thankful for all of our engaged users, and we'll keep trying our best to include your specific needs in our main development track when it makes sense.
Busting some cool moves
Releasing recurring payments and subscription plans for Snipcart users
The first year we launched, we frequently and steadily received requests to handle recurring payments directly through Snipcart. It took us a while to implement this behemoth of a feature, but I'm glad to say we finally shipped it a few weeks ago. Snipcart developers and merchants can now sell any kind of subscription plans (as well as products) directly on their website. With this new feature also came a brand new customer dashboard. Customers can now keep track of their transactions, orders and subscriptions in a dashboard easy to implement on any Snipcart merchant's website.
Getting more involved with the static web development community
One of the most fundamentally useful and fun aspects of Snipcart is without a doubt its independence towards any CMS. Since our launch, we've witnessed many CMS-specific integrations being developed around our product. We tried as much as we could to give visibility to those integrations, in order to inspire our users and give some credit to the developers who crafted them.
But what's also real fun about Snipcart is that it doesn't need a CMS to run, at all. We inject all of our shopping cart directly in the source code's HTML. In that sense, Snipcart and static websites, which require no CMS and are focused on code, are a match made in Heaven. Upon chatting with the good folks at Netlify (premium hosting for static websites), we decided to highlight some cool integrations that could be done with static site generators. They received some really positive feedback, so we're going to go ahead and share them another time right here:
Focusing on scalability
As our user base and company keep growing, we want to make sure we have a scalable structure in place.
This is why we launched a new CDN to better serve our static assets and improve performance three months ago.
That's also why we set up a server fallback strategy after going through a two hours downtime last Fall (the only one we ever had, and hopefully the only one we'll ever have). After our Azure servers in the East of the US crashed and our application became inaccessible for our users, we bulletproofed our infrastructure. Our application is now served both from the west and east sides of the US, allowing automatic traffic redirections to alternative instances if needed.
Finally, that's also why we injected a dose of discipline into our support efforts, reducing the response time for opened tickets and emails under 24 hours.
Lessons learned
Whether it's how to sell effectively to developers or how to handle code refactoring, we try as much as we can to share the lessons we learn growing our developer-oriented startup. Here are two important ones we learned during last year:
Don't spend too much time & money on large-scale events
We've had our fair share of events during the last 12 months. However, most of these events were either startup-oriented, or more globally web-oriented. While most of them were very cool, none of them gathered a homogeneous crowd of our real, core audience: the developers.
Sure, we met some interesting people and businesses. Sure, we got bits of local and international visibility. Sure, we got some valuable feedback here and there. But this isn't the ROI that a young startup such as ours is looking for. It didn't help us build traction and boost growth, which is exactly what we need right now. I won't get too specific here; I have an upcoming blog post exploring that precise subject.
In a few words, the lesson here is the following: if you're an early stage startup, focus on building product + traction, not PR and visibility. Those will come later.
Content pays, a lot
For us, content has been a crucial strategy in growing our startup. This might not be news to you if you've been reading our blog a little. However, last year was truly the year where we saw some of our content efforts flourish. Whether it's SEO rankings or developing relationships with CMS communities, the ROI has been way higher than expected. To this day, organic traffic keeps rising, driving concrete business results for our startups (aka signups).
The lesson here is simple, and we've said it a few times already. But we'll say it again: start blogging, and leverage content for your startup as soon as possible. It'll pay off sooner than later.
So what's next?
Okay, so a full year roundup ending without some future-oriented objectives wouldn't come off right. Let us end this (long) post with a list of such objectives:
Have 5x more developers using Snipcart by our next birthday (July 2016).
Strengthen our relationships with CMS communities.
Solidify our position as a B2D solution by connecting with developers.
Set up an incremental value-adding process by shipping more small releases faster.
To give you an idea of what's to come feature-wise at Snipcart: lean inventory management, multi-currency support, rehaul of the cart customization process, multi-accounts support, and digital goods.
---
So that's it folks! Thanks a whole lot for sticking with us through this amazing journey. Two years in and we're still having a blast, thanks to all of you. Oh, and if you want to offer us a birthday present, go ahead and share this post on Twitter!
Cheers!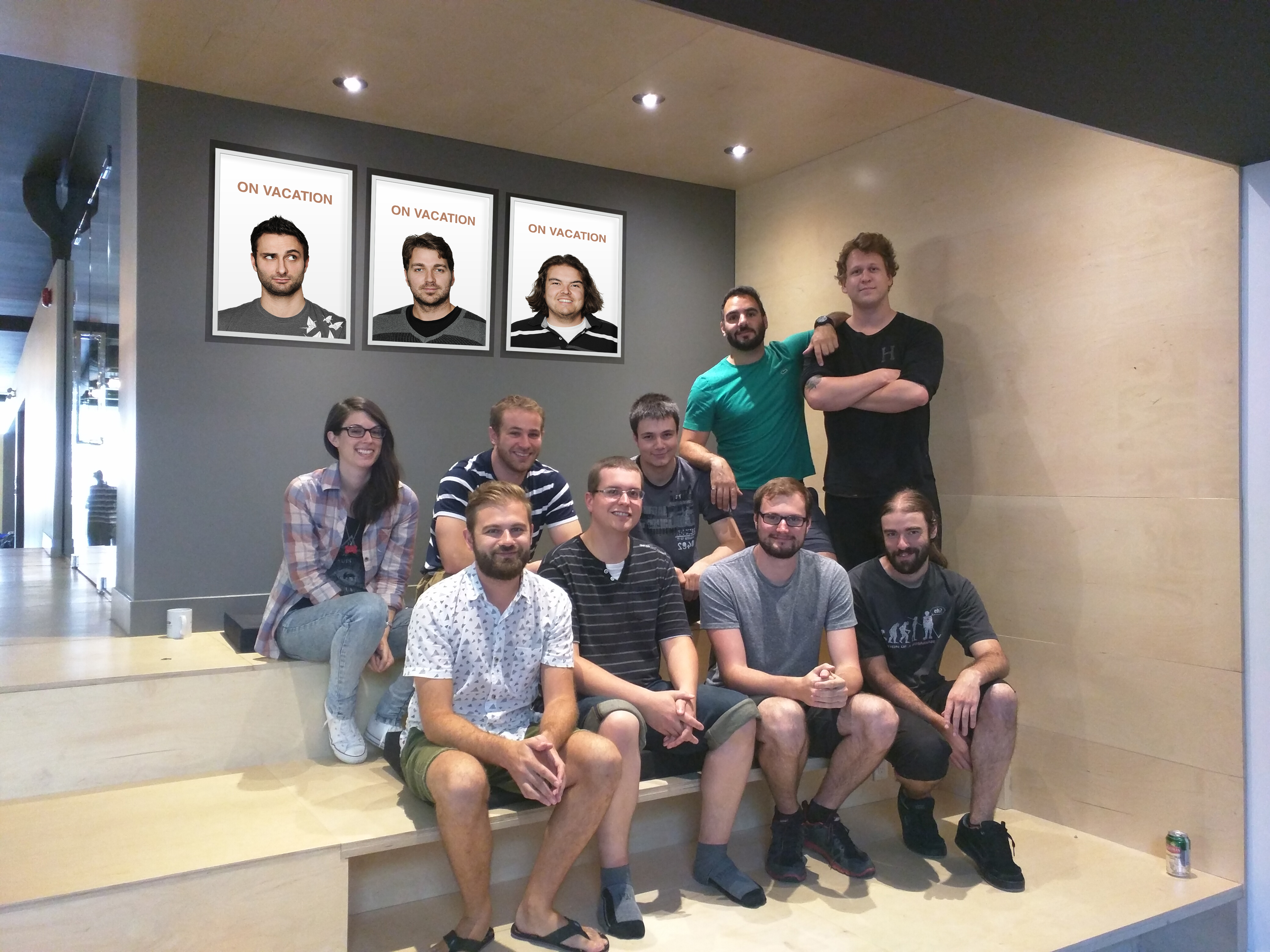 Suggested posts: