Featured: Sit-Down with Denver's Fake Diamonds Clothing
December 10, 2014
I recently sat down with Dillon Morton, founder of Denver clothing brand Fake Diamonds. We discussed his company's story and his own, as well as his experience with Snipcart. Here's the full interview, enjoy!
FAKE DIAMONDS: USER PROFILE
Give us a little backstory: how did Fake Diamonds come to be?
It began the week I started learning graphic design and Photoshop. Taking my artwork and finding a way to translate it to a shirt has always been a heavy interest. I'd chalk it up to a love for band merch and album art, which inspired my art in the first place. As soon as I figured out how to make my art digital, I stayed in computer labs after class and whipped up my first designs from there.
That was in 2008, during my sophomore year of college. After finding a way to print a small run of 12 shirts of my first design, I pretty much suckered my friends into buying them all. They have always been really supportive. I then started working with my buddy Mike Pack, who had experience with web development and an eye for photography. After launching the initial collection & website, we continued revamping things and learning with a new release every 6 months. That's how I got better at design and more comfortable with printing shirts. The process of growing and learning with a brand has been a blast.
One of the stars in your presentation video on your website is clearly the white dove. Any reason or symbolism behind it?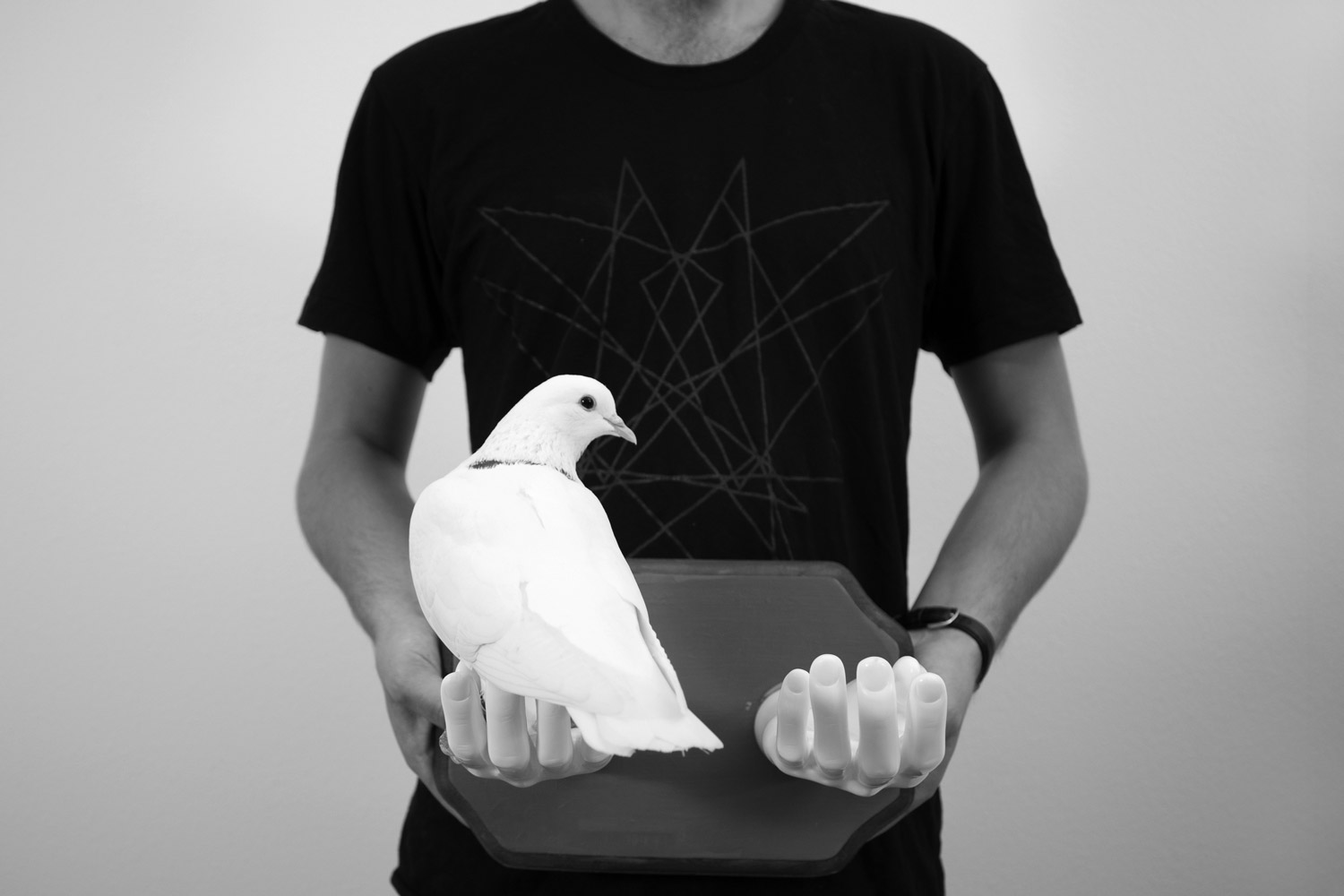 Haha! I'm a huge fan of Prince. While coming up with a concept for this collection's video lookbook, having a white dove was at the top of my list. It turns out there's a niche for people that train doves for releases at funerals or celebrations. Our dove's name was Atlantis.
Who designs the shirts in your team?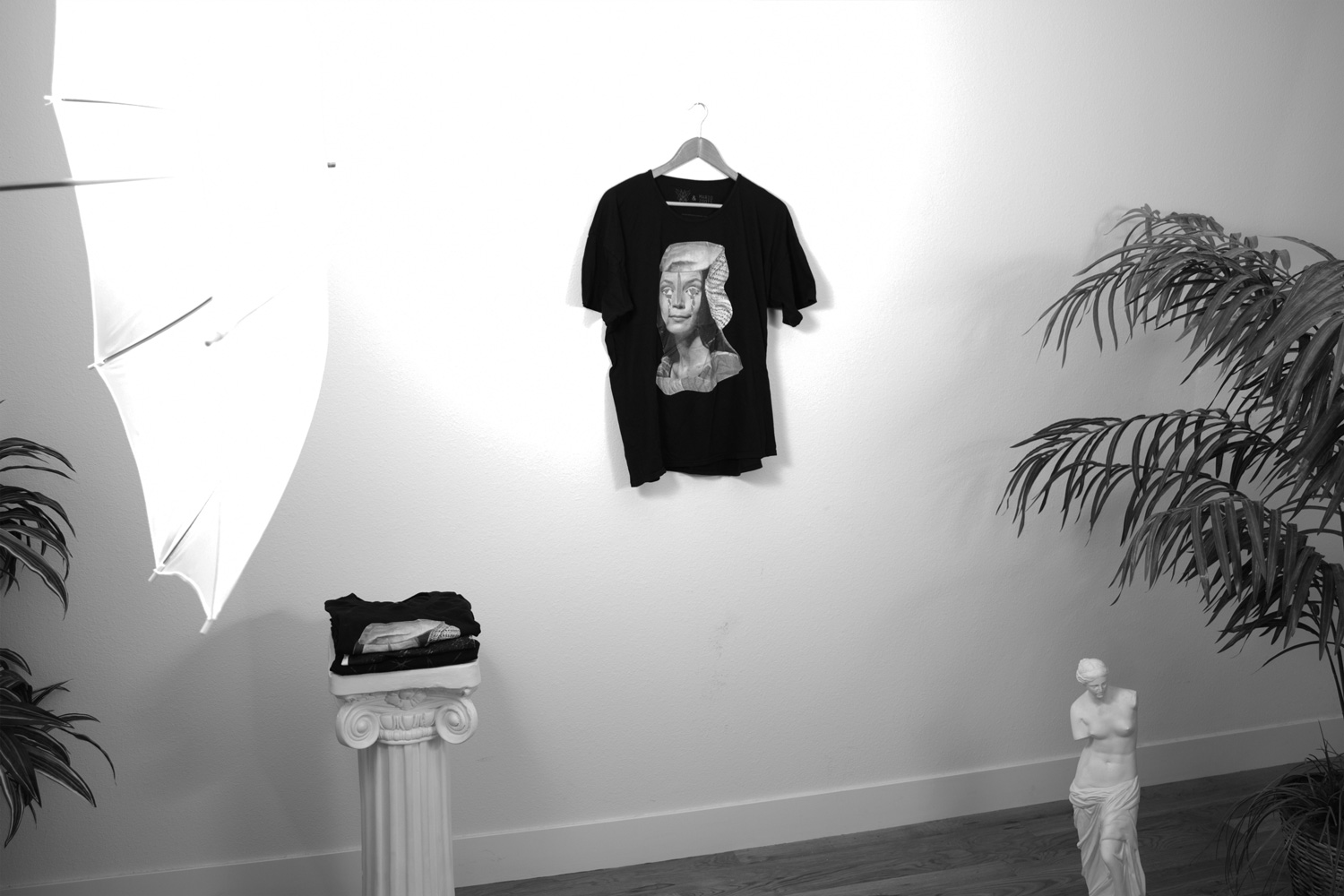 Between the team of Mike and myself, I take care of all the design and branding. That being said, I am looking to collaborate more on new designs in the future. On this latest release, we featured our first collaboration with a collage piece by Mario Zoots, a local Denver artist.
Your t-shirt designs are quite slick and somewhat obscure. Where do you draw your inspiration from? Are there themes you like to explore when creating?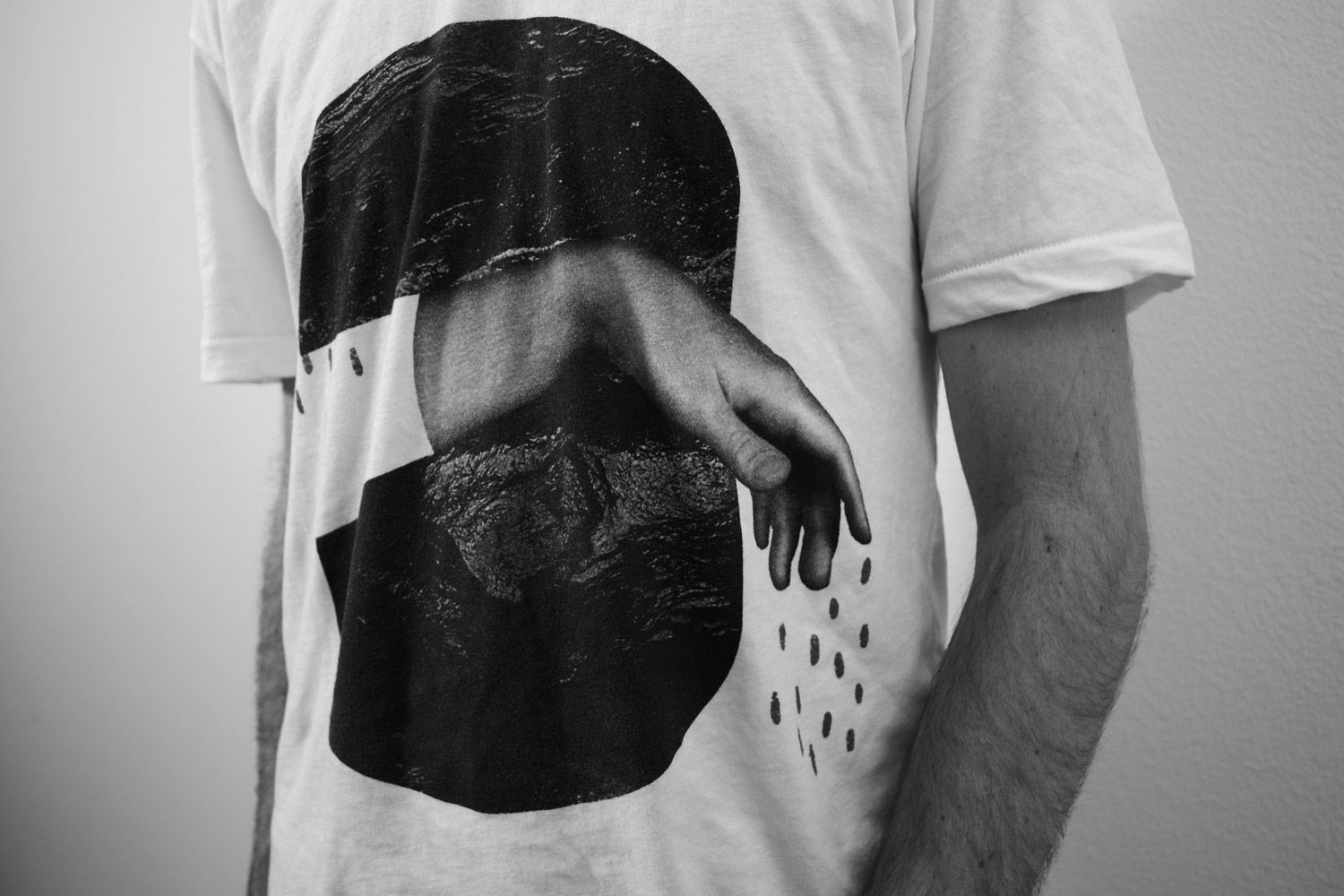 Since we do small runs, we can take the designs wherever we want. Instead of having to worry about selling 200 of the same design, we can focus on something visually interesting and explore it. I do a lot of collage work, like scanning old 70's Playboys for print textures and stuff like that. Like the dripping hand piece that has this rock texture to it; that's all from a watch ad that ran in an old Playboy.
You claim you want to offer ever-rotating collections of clothes and products. What do these collections look like in terms of frequency and size?
In the past, we were releasing a collection just about every six months; like most of the fashion industry. What we're looking forward to doing is breaking that. Even though this latest release we have only four designs; which falls back into our old way of doing things. What we want to do is challenge this with more frequent & spontaneous design releases. This way we're able to stay versatile and continue learning with each shirt. Because they're such limited runs, if one goes quickly, we can back that up with a new shirt immediately.
USING SNIPCART
How did you find out about Snipcart in the first place and why'd you choose it?
While building this new site, one of the main things I wanted was to do was start fresh and move away from WordPress and having to maintain a CMS. I think WordPress works well for certain things, but for this new website that we just launched, I wanted to use Middleman to keep things simple & organized with a static framework based around it. When it came time to implement an e-commerce solution, I began searching for something that would work well without a content management system. When I came across Snipcart, I thought it was too good to be true. Pairing Middleman's templating system with data tags to integrate with Snipcart's shopping cart platform was an easy decision.
How do you guys handle shipping as of right now?
Right now, I do all the shipping. After using Snipcart's integration with USPS' API, all the shipping costs are calculated based on the order size before I process them. Really looking forward to providing international shipping soon.
What do you think of our monthly 2% pricing?
I think it worked out very well. Having it paired with Stripe, it's just under 5%, right? Personally, I was a huge fan. There are other services that bundle it monthly, which was a concern. For someone like me who's trying to do little overhead and have small runs of clothes, the 2% works perfectly. This way we can actually try more interesting and fun projects that might be a little riskier.
How could we make Snipcart even better for you e-commerce wise?
That's a great question. Overall, I'm really impressed: it was easy to integrate and made the site more fun to develop. I'd say having an inventory system in the admin is at the top of my list. Another thing that could ease customization would be to allow an option to host the Snipcart CSS locally so you can easily adjust or template things.
---
I'd like to end this by thanking Dillon for taking the time to meet with me. Learning more about an interesting customer's project was really fun, and getting direct feedback from an actual Snipcart customer was, as always, a huge help. We'll see you in 2015 for the next featured user! Enjoy your holidays. :)
Suggested posts: