Automating US Sales Tax Management
with TaxCloud & Snipcart
October 08, 2015
Us dedicated geeks at Snipcart are always looking for ways to improve our merchants' lives. Consequently, we tend to lend an attentive ear when users ask us to integrate with a modern lightweight PHP CMS, or their favorite landing page builder, for instance. If it eases their e-commerce pains, we try our best to help!
In the past few months, many of our US-based merchants have been more and more vocal about one such pain: the handling of US sales tax for online stores. Related emails, support tickets and suggestions abounded. After reading a bit about the taxing reality of US taxes (see what I did there), I can say for sure that this is indeed a painful issue. Online retailers operating with a physical presence (or nexus) in the Land of the Free must deal with more than 10 000 different taxing jurisdictions. Add frequent tax rates changes and product-specific tax exemptions to the mix and you get quite a logistical challenge on your hands.
That's where sales tax compliance automation software comes in real, real handy. Now you know we often pride ourselves in using the whole effortless qualifier when we describe our developer-oriented solution. So we thought it was only fitting to make not only the cart integration effortless but operating it afterwards also. In that regard, we developed a native integration with TaxCloud, a popular sales tax management solution in the US. Of course, other SaaS solutions were suggested, but we ended up choosing this one.
TaxCloud: the what and the why
TaxCloud is a free (paid for by the states themselves), simple and effective sales tax software for online merchants and e-commerce providers such as ourselves. Dozens of other e-commerce solutions power their US tax management with this very tool, and more than 8000 merchants use and trust it.
Simply put, TaxCloud adjusts your online store's selling prices in real time thanks to a constant access to rate and regulation data for the United States. As you can guess, this kind of automated set up highly facilitates our users' operations.
Before this implementation, our US-based users sometimes had to enter manually up to dozens and dozens of different tax rates in our merchant dashboard. Now they can sell without any hassle to any state, county, city and special jurisdictions in the America.
Beyond the live tax calculations, TaxCloud also offers detailed monthly reporting broken down by jurisdiction and tax exemption certificates management. When it comes to collecting and filing US taxes, it becomes a true time saver for merchants.
How to use TaxCloud with Snipcart
Snipcart is now fully integrated with TaxCloud's API. During a transaction on your cart, when the time comes to retrieve and apply sales tax rates, we make a request to their API using your TaxCloud credentials. This simple process ensures we display and apply the accurate tax rates.
Once the purchase is completed, we send the order information to TaxCloud. You can then use their service to generate your tax reports and automate a lot of the filing process.
How to set it up in the merchant dashboard
Important: you'll need to create a TaxCloud account before using it with Snipcart.
First of all, log into your dashboard. Go to Account > Taxes; you will see TaxCloud in the integrated providers list. For now TaxCloud's the only one we have listed. But we do plan to add others, to ease our friends' lives in Europe, for instance.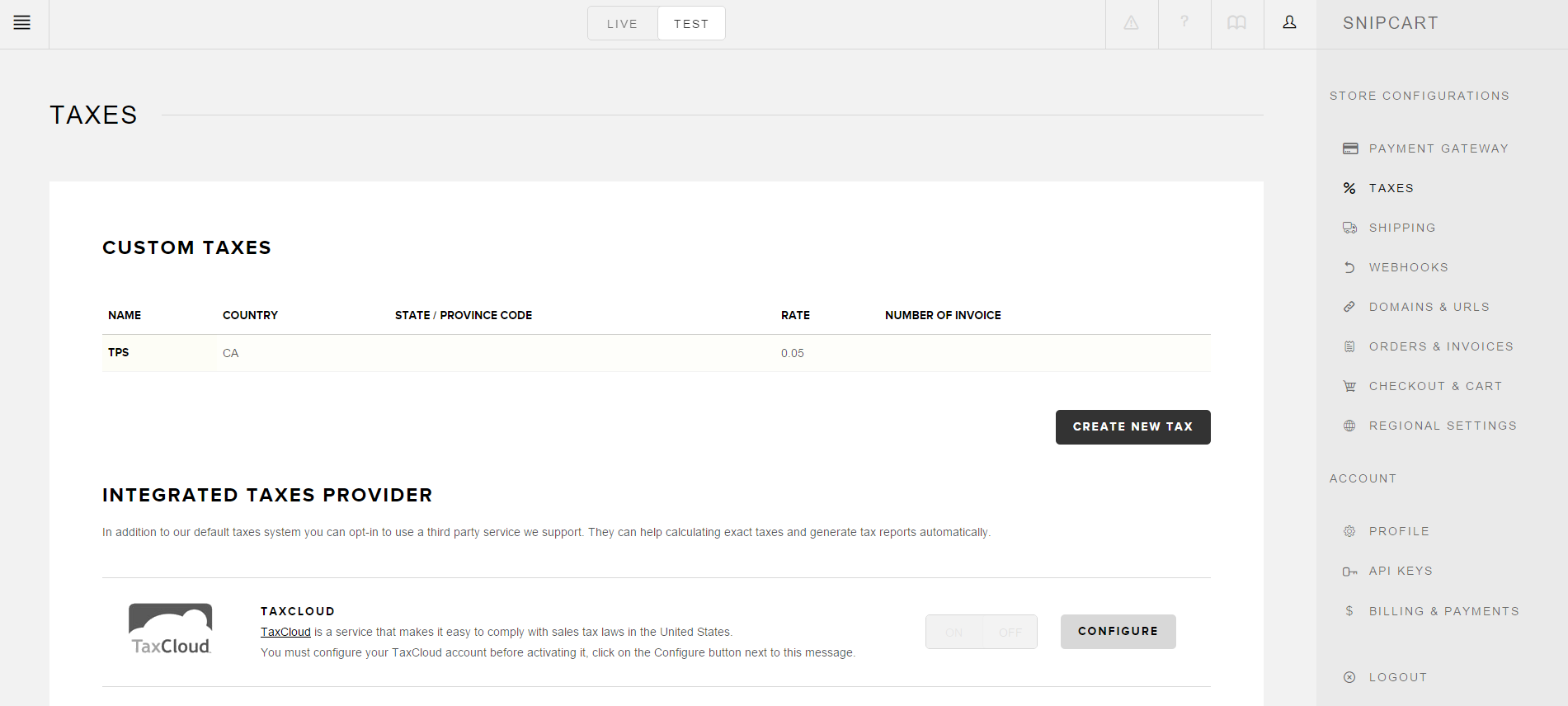 First step is to click on the Configure button and provide us your credentials (you can find them in the Websites section of your TaxCloud account). What we need is your API ID and API Key. All this information is encrypted in our database and will be used to make the requests we previously described to TaxCloud's API.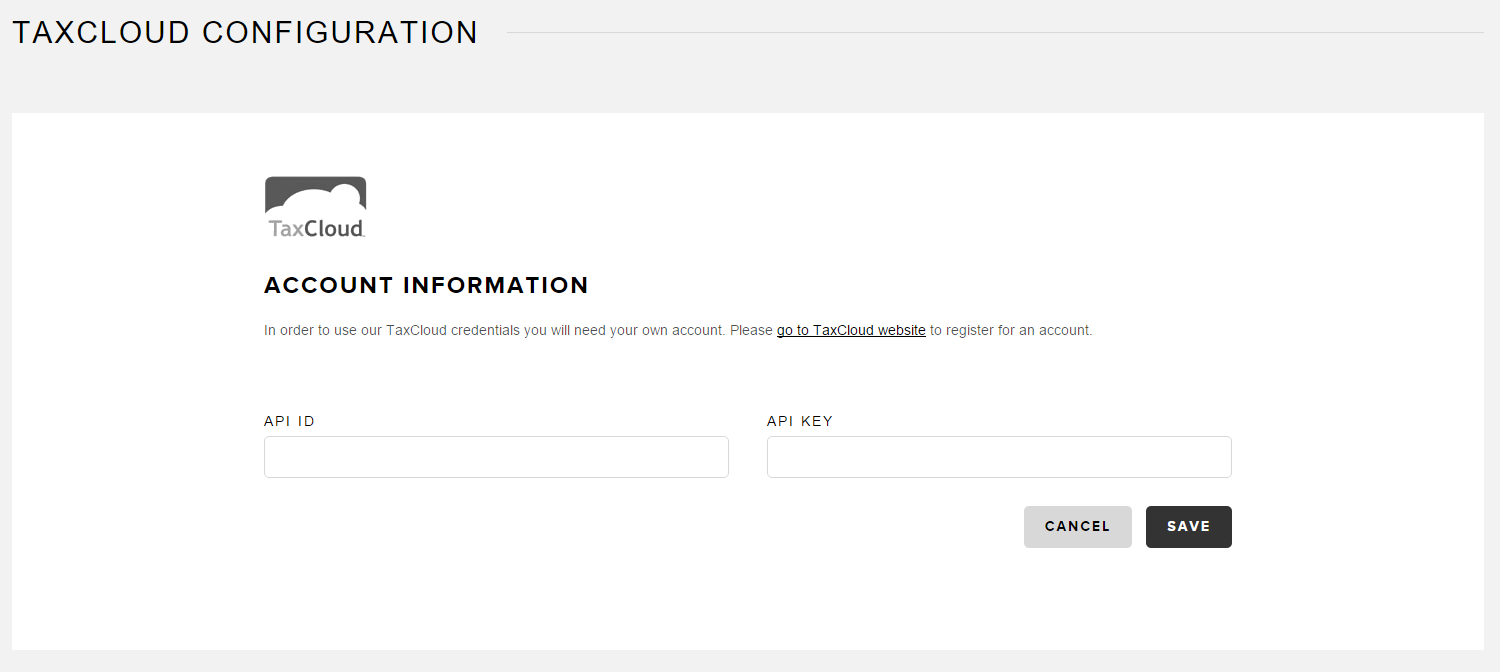 Second and last step: go back to the Taxes settings and enable TaxCloud service. Please note that you won't be able to use Custom taxes along with an integrated provider.

And that's it folks! Pretty straightforward, huh? A few clicks will save you a bunch of valuable time you can spend on what's really important: your products, and your customers.
In case you'd want to learn a bit more about TaxCloud before setting it up with your Snipcart account, head over to their FAQ for a quick, informative read on their service. You can also have a look at our related Taxes documentation section.
---
If you're a US-based online retailer selling with Snipcart, we sincerely hope this valuable integration will make your life easier. Questions, comments and feedback on this subject matter are welcomed in the section below, or at geeks@snipcart.com. And if you want to help us spread this cool news to active and potential users, please, take a second to share it on Twitter!
Suggested posts: